Fantasy Football Picks: Week 3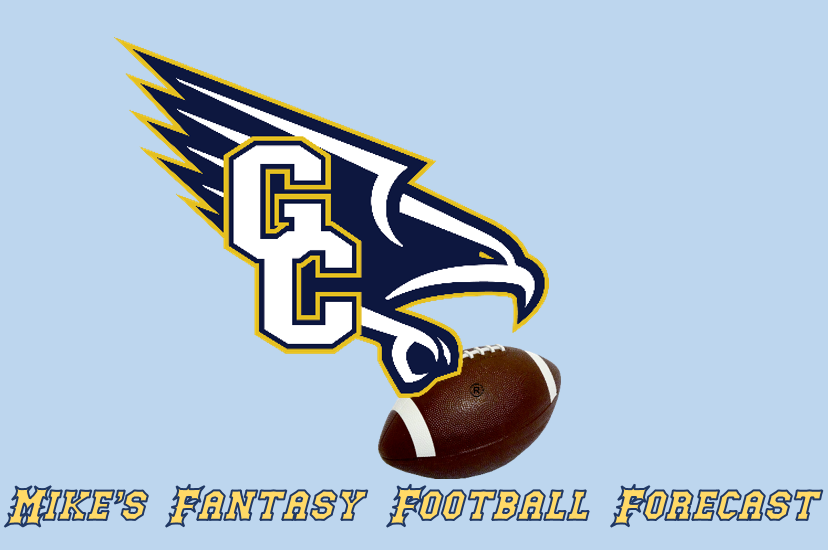 Fantasy Football Picks: Week 3 
Football season is here! And that means fantasy football is here too! For expertly picked quality starters and bench warmers, continue reading below and WIN your fantasy football league! 
Previous Weeks: 
Starts of the Week  
Quarterback:  
Russell Wilson: Russell Wilson was cooking Sunday night against a Patriots defense that was regarded as the best defense all last year and had the reigning defensive player of the year, Stephon Gilmore. Russ finished the game with 288 yards and 5 touchdowns. He will be facing the 25th ranked scoring defense of the Cowboys Saturday evening. The Cowboys have allowed an average of 274 passing yards and two touchdowns a game. Russell Wilson will cook a soufflé Saturday against the Cowboys.  
Kyler Murray: Kyler Murray has emerged this season and seems to be the next big star of the NFL. Murray has averaged 258 passing yards per game and 79 rushing yards per game. Murray will be facing a Detroit Lions defense that has looked weak through two games, having blown multiple leads. Murray will look great on Sunday.  
Running Back:  
Miles Sanders: Miles Sanders has had a disappointing start to his 2020 NFL season. He missed his first game due to injury and had a costly fumble last week against the Eagles. Sanders will have a perfect opportunity for a bounce back game against the Bengals. The Bengals have allowed 185 rushing yards a game, including a game where the Browns rushed for 215 yards.  
Jonathan Taylor: Jonathan Taylor has emerged as the primary ball carrier of the Colts after Marlon Mack's injury. In his first game as a starter, Taylor had 101 rushing yards and a rushing touchdown. Taylor will look to continue this production in a poor Jets run defense. The Jets have allowed an average of 140 rushing yards a game and have not shown any signs of improvement.  
Wide Receiver:  
Odell Beckham Jr: Odell seemed to catch his stride against the Bengals after a disappointing performance against the Ravens. He finished the game with 6 catches for 74 yards and a touchdown. He will be playing against The Washington Football Team on Sunday, whose cornerbacks are not anything special. The Football Team has allowed an average of 352 passing yards a game. Odell should have a big day on Sunday.  
Keenan Allen: Keenan Allen has had a somewhat quiet start to the 2020 season, having not scored a single touchdown through two games. That streak should end Sunday against the Carolina Panthers. The Panthers cornerback group is weak and allowed Mike Evans to have 104 yards on 7 catches in week two. Allen will have a similar performance to Evans and will have a nice fantasy week.  
Tight End:  
Austin Hooper: Hooper has not replicated his success with Falcons this year. He has had only 4 catches for 37 yards. This will not be the case Sunday against The Washington Football Team. Washington's defensive strength is the defensive line. Other than that, the defense is very weak. Whether Hooper will be matched up by a linebacker, safety, or cornerback, he will likely have a big game.  
Defense:  
New England Defense: New England's defense did not look sharp on Sunday Night, allowing the Seahawks to score five offensive touchdowns. This will likely not be the case when they play against the Las Vegas Raiders. While the 2-0 Raiders offense looks strong after a Monday night win against the Saints, Bill Belichick will get his team back on track.  
Bench Warmers of the Week   
Quarterback:  
Drew Brees: Drew Brees has not looked sharp in his first two games back. He seems to have lost his accuracy and does not seem to be able to throw a deep ball. Monday night against the Raiders, Brees threw only one pass that was past 20 yards. He is 21st in the league for yards per attempt, with 6.9. He is also 21st in completion percentage, with 64.7 percent. On Sunday night, Brees will be facing a strong Packers defense featuring a scary defensive line with Za'Darius Smith and Preston Smith.  
Running Back:  
David Johnson: Johnson seems to have had a resurgence with the Texans so far this year. The six-year veteran has 111 rushing yards and a touchdown through two games. He will not have a good game however against the Steelers. The Steelers defensive line is scary good. It features edge Bud Dupree, T.J. Watt, Cam Heyward, and Stephon Tuitt. Johnson will really struggle against the Steelers.  
Wide Receiver:  
Marquise Brown: Hollywood Brown had a quiet game against Texans. He finished with only 42 yards and 5 catches. Be weary of starting him again this week as he goes up against the Kansas City Chiefs. The Chiefs secondary improved during last season and is very strong this season. Brown will have a tough week against the Chiefs.  
Tight End:  
Tyler Higbee: Tyler Higbee had a monster game against the Eagles, finishing the game with 5 catches for 54 yards and 3 touchdowns. Be weary of playing him this week though. He will facing up against the Buffalo Bills, who have held tight ends to an average of 37.5 yards through two games.  
Defense:  
Ravens Defense: The Ravens defense has been spectacular so far this year. The Ravens are first in the NFL for scoring defense, having allowed only 12 points per game. The game Monday night will be a separate story. The high-powered Chiefs offense featuring Super Bowl LIV MVP Patrick Mahomes travel to Baltimore. In the Patrick Mahomes era, the Chiefs have averaged 30 points a game against the Ravens. Expect a high scoring game on primetime.  
Injuries Galore: 
Week two of the NFL Season saw some of the most injuries that ever occurred in a single NFL week. Stars were dropping left and right and conspiracies of "sticky turf" emerged to explain the injuries. Below are some of the major injuries suffered last week.  
Saquon Barkley: The young star running back who was anticipated to have huge season is now out for the rest of the season. He suffered a torn ACL in the second quarter of the 17-13 Giants loss. The Giants signed Devonta Freeman, who will likely become the number one receiver. 
Christian McCaffrey: The consensus number one fantasy draft pick is now out for 4-6 weeks. McCaffrey suffered a high ankle sprain Sunday afternoon against the Tampa Bay Buccaneers. Mike Davis will be taking the role as the number one ball carrier in Carolina. 
Courtland Sutton: Courtland Sutton's 2020 NFL Season will end after one game. Sutton had missed his first game of the season with an AC joint sprain. Now he will be missing the rest of the season with a torn ACL that was suffered against the Pittsburg Steelers. Denver has other receivers that will step up include tight end Noah Fant and rookie receivers K.J. Hamler and Jerry Jeudy. 
49ers Defense: The Niners defense is not looking as scary as they were just last year after being completed annihilated with injuries. Cornerback Richard Sherman was placed on IR last week and is expected to miss a few more weeks. Starting defensive end and 2019 defensive rookie of the year, Nick Bosa, is out for the rest of the season with a torn ACL. The 2017 third overall pick, defensive tackle Solomon Thomas, is also out for the rest of the season with a torn ACL. Edge rusher Dee Ford also missed Sunday's game against the Jets with a neck injury.  
Raheem Mostert: Raheem Mostert opened Sunday's game with an 80-yard touchdown run on the first play of the game. The rest of the game was not as satisfying for him though. Mostert left the game with a knee injury that was later diagnosed as a sprained MCL. The 49ers will have Jerick MicKinnon replace his production.  
Will Fuller V: Will Fuller's injury bug comes back already in week two. Will Fuller has always had the talent, but it is just a matter of if he can get on the field, and it looks as if Fuller won't be on the field Week 3, and possibly longer. Fuller suffered a hamstring injury in the Texans loss to the Ravens and failed to make it onto the field in the second half.  
Drew Lock: The hyped second year of Drew Lock's career will take have to take a halt after Lock suffered a sprained AC joint sprain. Quarterback Jeff Driskel will take the role of starting quarterback while Lock is out, and recently signed quarterback Blake Bortles will be on standby.  
Parris Campbell: Parris Campbell seemed to mesh well with Philip Rivers in his first game, having 6 catches for 71 yards. The Rivers-Campbell connection be able to be seen for the rest of the season however, with Campbell suffering a season ending injury. Campbell suffered a PCL injury Saturday afternoon. Rookie receiver Michael Pittman Jr. and veteran T.Y. Hilton will likely handle a share of Campbell's targets while he is out.  
Sources: 
Barnwell, B. (2020, September 21). Ranking the most impactful injuries of NFL Week 2: Nick Bosa, Saquon Barkley, Drew Lock and more. Retrieved September 21, 2020, from https://www.espn.com/nfl/story/_/page/billbarnwell092120/ranking-most-impactful-injuries-nfl-week-2-nick-bosa-saquon-barkley-drew-lock-more 
Fantasy Football Scoring Leaders. (n.d.). Retrieved September 21, 2020, from https://fantasy.espn.com/football/leaders?leagueId=0 
Owens, J. (2020, September 20). Kyle Shanahan blames 'sticky' MetLife Field turf for litany of 49ers injuries vs. Jets. Retrieved September 21, 2020, from https://sports.yahoo.com/kyle-shanahan-blames-met-life-turf-as-49-ers-suffer-slew-of-injurie-225013719.html 
Pro Football Statistics and History. (n.d.). Retrieved September 21, 2020, from https://www.pro-football-reference.com/