In Our Community…
Good Counsel Supports Olney HELP in Providing Food to Local Families
In September, GC sponsored its annual food drive to support Olney HELP. As an organization that provides emergency food supplies to families in the community that need assistance, Olney HELP shares our Xaverian mission of helping those in need. 
Olney HELP works to provide families in need with food and financial assistance. They provide 3-5 days of fresh and non-perishable foods to families in Olney, Brookeville, Brinklow, Sandy Spring, and Ashton, Maryland. Olney has a poverty rate of about 3 percent. (https://datausa.io/profile/geo/olney-md/) and Olney HELP has seen an increase in families who need financial assistance in recent years. They are mostly funded by schools and churches, like Good Counsel.  As Mrs. Weidner said, "When we moved here, we needed to start doing things that showed this neighborhood and this community that we'll help."
"
You can't do well in life unless you do good."
— Mrs. Weidner
The food drive "is a yearly way to live out the values," as described by Mrs. Weidner, GC's food drive coordinator and Chair of the Religious Studies Department. Through the food drive, GC students show the community that they are here to help.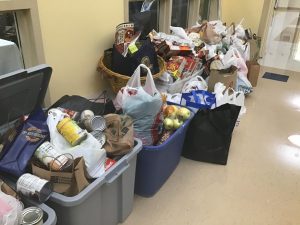 GC and Olney HELP have been working together for about 15 years. A GC parent who volunteered for Olney HELP started the annual food drives at our school. Olney HELP depends on us when their pantry shelves are getting empty. Students can also volunteer to package food, stock shelves, and work in the food bank. 
Olney HELP needs support throughout the year.  By supporting an organization that does good things for the community, GC students show their compassion. As Mrs. Weidner says, "You can't do well in life unless you do good."