For me, Thanksgiving is such a nostalgic holiday that I look forward to every year! There is so much I love including food, family, and the memories that Thanksgiving allows to be made. As we approach the holiday, I've decided to ask the Talon staff to recall their favorite Thanksgiving and why!
"For my favorite Thanksgiving, it had to be last year when I was 15. Being able to see my family for the first time because of the lockdown was so much fun." 
-Evan Nicholas '25, Co-Section Editor, Arts and Entertainment 
"I would say one of my favorite Thanksgivings was last year (2022) because I got to spend time with my aunt, uncle, and cousin (and their dog!) from out of town. I don't get to see them as much as I would like to so I was happy to spend time with them." 
-Danny Chung-A-Fung '24, Exec. Director FNN Team/Staff Writer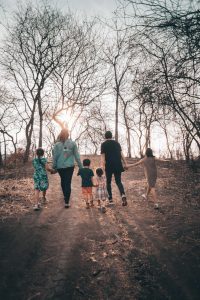 "My favorite Thanksgiving was in 2021 because we went over to my aunt and uncle's house to watch the Macy's Thanksgiving Day Parade, then went over to my grandparents' house. We ate around 2 after playing inside. After we ate, we went outside and played a little bit of football.  My uncle and aunt who live in Florida had also come to Maryland." 
– Jennifer Garippa '27 Staff Photographer 
"My favorite Thanksgiving was probably in 2019. Like we do every year, I went to my cousins' house and my whole family had dinner together. Though we didn't do anything different or special, I remember this Thanksgiving really well in particular because of how excited I was to leave and go see them. I also remember binging the Friends Thanksgiving marathon with one of my cousins that day. We went outside, although it was freezing, and I just remember us laughing a lot that year. It's always a fun time celebrating any holiday with them! This was also our last Thanksgiving before Covid and before I began high school, so this one in particular feels much longer ago to me than it actually was and could be why it feels more special." 
– Rachel Shrestha '24, Co-Section Editor, Perspectives 
"I can't think of any particular Thanksgiving that stood out.  My mother's side of the family included my grandmother, twelve aunts and uncles, and twenty-six cousins.  Because my father loved to cook, Thanksgiving was always at our house.  Most of the family, along with additional family friends and neighbors would come.  There was no dining room table large enough to fit us all.  We would set up long tables, end to end, in the rec room where everyone would sit, young and old.  The food was always delicious and made spending time with family even more special.  Over the years, the family has become much smaller, and many are spread across the country.  We no longer have those over-the-top family celebrations.  My husband and I have started our own traditions and created special memories with our children and now our grandchildren, but I will always carry those Thanksgiving memories of my childhood in my heart." 
-Mrs. Essig, Talon Advisor
My hopes in writing this article were to lift spirits for the holiday as I know we've been long awaiting our Thanksgiving break—a well-deserved one too! I was also eager to hear from others what makes their holidays unique and memorable to them. The staff and I hope everyone has a great Thanksgiving!