In late October and early November, Good Counsel Theatre Company's (GCTC) Fall Play, The Diary of Anne Frank, was performed in the Performing Arts Center at the Our Lady of Good Counsel High School. There were six performances, each receiving a long round of applause when Mr.Frank was curtained off at the show's end.
The Diary of Anne Frank is a novel published in 1947 by Otto Frank, Anne's father. The story centers around the life of eight people-the Frank family, the Van Daan family, and Mr.Dussel-hiding in a secret annex for more than two years to escape the invasion and anti-Jewish policy of the Nazis. Anne and her family moved into the annex in 1942, and they were discovered, separated, and except for Mr. Frank, were executed in the Nazi concentration camps. Based on Anne's diary, Mr. Frank recreated, in his words, the story of that hazardous time.
Once it was publicized that the Fall Play was The Diary of Anne Frank, one question immediately arose: could a group of high school students living so far from war and cruelty beyond measure really bring to life the experiences of the Frank family in 1940s Amsterdam? Could they portray the nervousness, the conflicts, and the desperation? When the Director, Ms.Pozderac, was asked these questions, she determinedly answered with "Yes" as if she had never taken the possibility of failure into consideration. In fact, according to the interview, Ms.Pozderac and every theatre group member never doubted whether they could succeed. 
With each performance, they strive again and again to make each performance a better show. Their performances were so lifelike, and such attention was paid to detail that both audiences from inside and outside Good Counsel forgot that they were high school students without professional training? 
On the stage
Each performance is a constant pursuit of details. Change is a significant theme of the play. The actors use subtle changes of details on the stage to give the impression that time is moving on. Elsa Harlor '27, who plays Anne, intentionally uses a lower tone of voice to indicate her growth. Peter, who used to be obedient to every order his dad made, begins to stand up to his father to protect Mouschi, a kitty hated by Peter's dad and Mr.Dussel.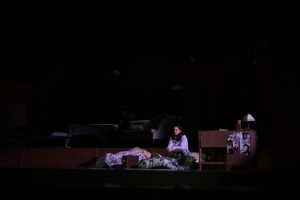 On the contrary, Anne becomes more fearful every time Nazi military trucks pass by the building, making Anne look up with frightened facial expressions. She becomes more and more silent as the play goes on. 
The show's subtle changes are reflected by the protagonists and portrayed in the actions of all the other roles. Whenever there's a quarrel between members, the others react as they should. This seems like a small detail, or even too strict, but only in this way can the show be believable. In addition to the changes, the actors interpret conflict and tolerance well. Conflict and quarrels would inevitably break out while living in a small annex. Mr.Duselll gives a vivid interpretation of this theme. As an unexpected addition, Mr.Dussel abruptly breaks into the Frank and Van Daan families' lives. While Mr.Dussel is careful not to annoy anybody, his presence causes additional disruption and stress. Mr. and Mrs.Van Daan consistently point out that Anne is too noisy; Peter uses "squak, squak" to satirize Anne, while Mr.Dussel continues to protest again and again when he's bothered by Anne's nightmares. Mr. Dussel's tonation is always soft and sometimes even shivery; he's always humpbacked. He tolerates the situation because that is his only choice. In other words, Mr.Dussel doesn't belong to this secret and small community, and the actors' performances clearly make this point to the audience. His physical gestures, facial expressions, and language are all specially designed to show a Mr.Dussel who doesn't fit in this environment with a group of strangers. On the other end is Mr. and Mrs.Van Daan, who are temperamental and confrontational- they have endless quarrels with each other. When asked if they still like each other, they respond that they love each other. However, Mrs.Van Daan says that she and her husband are too different to understand each other, and it is heartbreaking for Mrs.Van Daan to be reminded that the closest person to her doesn't always understand her. Christina Ferentinos "24, and Chris Patiag "24, who play Mr. and Mrs. Van Daan, realistically portray their characters as two people in constant conflict with each other.
Behind the stage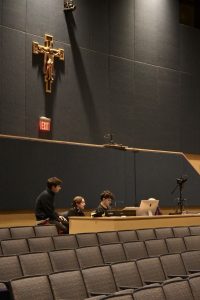 To make the show perfect, it's not sufficient to simply have a group of incredible actors and actresses. The crews behind the stage are also crucial to the success of this play. More people need to be aware of their contributions. The first time someone watches this performance, they must wonder how the costumes fit the characters so well, not only in size and style but also in temperament. To achieve this result, the costume design crew put in many hours. They had to learn what clothes people like Anne wore in the 1940s. Additional challenges presented themselves to the costume crew. According to Cecilia Cantarilho "24 (a member of Costume Design), the costumes were not readily available at the beginning. They couldn't find suitable costumes in the school stock and had to figure out how to get the rest of the needed clothes. While costuming requires a great deal of work before the show, audio is a work in progress during the show. It takes a lot of skill to coordinate between audio crews and performers. For instance, to deal with the problem of loud footsteps, the audio crew put blankets on the ground to mitigate the effect of footsteps on the audio.
Moreover, since the actors speak from different distances to the fixed microphones, the audio crews have to guess the volume based on their distance from the microphones and decide whether to strengthen or weaken it. Other fabulous and hard-working behind-the-scenes crews include lighting design, scenic artistry, scenic design & construction, house management, publicity, stage management, properties & set dressing, and hair & make-up. Without their joint contributions, the play could never be a success. 
It took a great deal of work and effort, lasting five months, for GCTC to prepare for the play. And all the hard work and effort that goes into the preparation ensures that the audience is never disappointed. A bright light should shine on the commitment to excellence, both on stage and behind the scenes, demonstrated by the members of GCTC.