Roasted turkey, pumpkin pie, mashed potatoes, cranberry sauce. Preceded by a day of thankful tidings, parade floats, and a dog show, Thanksgiving dinner is often one of the largest meals of the year filled with holiday classics.
The question is though, how classic really are these dishes. What did the modern day feast look like on the first Thanksgiving, and how has it evolved to become what it is today? There are only two remaining records of the first Thanksgiving menu, and they obviously show that turkey was the star of the show…right? Well, according to Professor Troy Smith at Tennessee Tech, the meat of the meal consisted of freshly killed deer, various birds (including turkey), cod, and bass.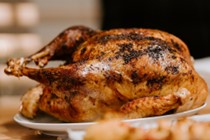 These animals were common in the area inhabited by the Wampanoags, and such an abundance would make them easy to harvest for such a large feast.
Other dishes present at the meal consisted largely of produce, specifically beans, peas, squash, and flint, an American-native variety of corn eaten in cornbread or porridge. There was a severe lack of many modern day dishes largely due to the absence of mills, preventing colonists from producing flour. This means no pie, casserole (potato or green bean), gravy, and so many more common dishes today. Cranberries were probably at the Thanksgiving table, but they would not reach their superior jelly sauce form until 50 years later when refined sugar became more readily available.
The modern day Thanksgiving consists of an innumerable number of potential dishes and thousands of recipes claiming to be "the best Thanksgiving pie," or the #1 way to cook your turkey," but it all began back with that table of meat, produce, and the thankful spirits that continue to Thanksgivings today.
Sources:
Professor Shares History of the Thanksgiving Meal. Tennessee Tech News. 21 November 2021. https://www.tntech.edu/news/releases/21-22/professor-shares-history-of-the-thanksgiving-meal.php#:~:text=But%20according%20to%20the%20two,as%20corn%20bread%20and%20porridge. Accessed 14 November 2021. 
Lamb, Catherine. What Food Was *Actually* Served at the First Thanksgiving. 5 October 2020. https://food52.com/blog/20949-what-was-actually-served-at-the-first-thanksgiving Accessed 14 November 2023.