Over the summer, a team of students known as iFalcons, volunteered to prepare iPads for the incoming class of 2027. Approximately 25 students took on the process, which took two days to
complete. Volunteers were enthusiastic to help. A student volunteer, Mosunmola Balogun '24, gave her reasoning for volunteering. " I signed up because I wanted to help out the incoming freshmen by making sure they have the right tools to succeed in the classroom."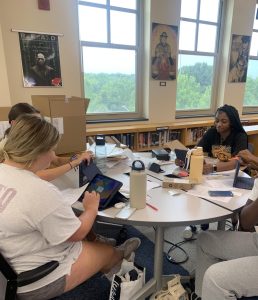 The first day began with an instructional slide show demonstrating how to set up the iPads correctly. Then, the students split the presentation into groups and started the iPad setup. From unboxing the iPads to creating a unique profile for each student, the iFalcons did everything themselves. When Balogun elaborated on the process she stated, "There were hours spent on setting up the iPads. Roughly 6-8 hours." By the end of the process, the iFalcons had configured approximately  300 iPads. After each box had been separated into advisories, they were packed and delivered to the communities. 
During Freshmen Orientation, iFalcons demonstrated how to sign into the iPads and utilize the specific features on incoming freshman's devices. Students were shown how to access textbooks for subjects such as math and English and how to navigate their email. In addition, the new educational platform, Veracross, was introduced to the students. The program allows students to check their grades, learn about upcoming school events, and keep account of their attendance. The interactive portion of the presentation allowed students to demonstrate their understanding of applications such as Google Classroom and Google Drive and their knowledge of how to navigate independent apps. The students learned how to manage the school devices to work correctly and troubleshooting skills for different technical issues.
Throughout the process, our falcons showed how strong our community is. As good stewards, the iFalcons welcomed the freshmen with open arms and set an example of the selflessness that our student body is known for. As a Xaverian sponsored school, we are grateful for the work done by our upperclassmen and thankful for the incoming students who will get the opportunity to help, in the same way they themselves were helped.