When you think of Good Counsel, you probably think about its great athletic program. GC has won over 70 WCAC titles in the last decade alone, and graduates have gone on to play at the highest level in college and professional sports. GC is consistently among the best sports schools in the area, in part because of our tremendous student-athletes. 
In this recurring segment, you will be able to get to know some of the GC athletes who go out and proudly represent our school at athletic events.
Today we feature Maddie Isaacs '24, who is a member of the 2023 WCAC champion girl's varsity soccer team! She's been playing soccer since she was five years old, and next year, she'll be playing Division I Soccer at Colgate University! In her interview, Maddie touches on the fact that soccer has had a significant impact on her character development, which will stay with her as she plays at Colgate and beyond.
Introduction:
When and why did you start playing soccer?
I started playing soccer around five because my parents really wanted to get me involved in sports.

"

I love this team so much and I'll miss the team sleepovers we do every year.

— Maddie Issacs '24
What position do you play?
I play center back and outside back.
What's your favorite part about playing soccer?
My favorite part about playing soccer is being on a team where everyone is competitive and always trying to win. 
Soccer:
What has been your greatest challenge playing soccer- and how have you overcome it?
My greatest challenge playing soccer has been finding motivation and confidence when I feel like I've had a bad game, or I didn't play my best. I have overcome it by reminding myself that everyone makes mistakes and thinking of all the good memories I have because of soccer.
What's the team environment like? What do you guys do to bond on and off the field?
The team environment is very supportive as well as competitive. We always cheer each other on, even in practice. We are all determined to win, so we know when it's time to lock in. 
What's your pregame hype song?
Run It Up – Lil Tjay
If you had to play a sport other than soccer, what sport would you play instead?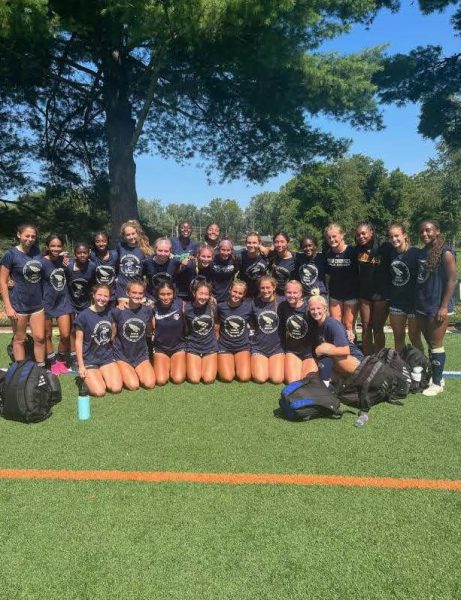 I would play basketball because I like to watch basketball, and my dad was a basketball coach.
When you're not playing soccer, what else do you like to do in your free time?
When I'm not playing soccer I'm usually watching Netflix. I really liked to watch Criminal Minds and New Girl when they were on Netflix.
School:
What's your favorite class in school?
AP Biology 
What's your least favorite class?
AP Calculus 
What are you interested in studying after high school?
Psychology 
Legacy:
Who would you say is/ has been your biggest inspiration?
My biggest inspiration is my Dad because he works so hard. He stays up late doing work and he spends most of his time in his office on work calls. 
How do you feel about it being your last year competing in high school? What has your favorite memory been during your high school career?
I'm very sad that this is my last year competing in high school because I love this team so much. My favorite soccer memory is the team sleepover we do every year. We get to make s'mores, which are my favorite, and it's a great chance to bond with the team.
Looking back, is there anything you would have done differently either on/off the field during your high school years?
I wish I would've been more confident in myself in order to make the most out of my time on the team and with the girls I played with. 
How has soccer shaped you as a person?
Soccer has made me more confident in myself, more competitive, and more driven. It has also taught me that working on a team, or in a group, where everyone is driven is a lot of fun. 
What do you want your legacy to be at GC? 
I want to be remembered as someone who played an important role on the soccer team and as a helpful classmate. 
Good luck Maddie!