There are always new additions as we begin a new school year; however, we have seen a surplus this year. From the new President of Good Counsel, Mr. Ciccone, to the newly constructed science labs and learning center. These additions have made many students optimistic and happy for the new year. But one thing has made many students and some parents unhappy—the new portal system that replaces "MyBackpack" called "Veracross." This article will explore what Veracross is, the opinions of students, and how we, as a school community, can adjust to this new normal.
What is Veracross-
Veracross is a school information system that unifies school communities, improves communication for parents, and allows for a peaceful workflow between faculty and staff. The primary purpose of Veracross is to facilitate an easy way for students to navigate through their academics. I asked Mr. Campbell, Good Counsel's Principal, why the decision was made to replace MyBackpack with Veracross; "The decision was made to move away from MyBackpack as the system was close to being phased out by the company. Last school year, we drafted a request for proposal (RFP) that was sent to multiple companies regarding a new platform. Veracross emerged from the process as our first choice since it served not only the academic needs of the school, but also Admissions, Business Office, and Advancement." 
So, if Veracross is meant to unite a school community, why are students annoyed by the change? Since school began, many students have been unable to view their grades, causing stress and panic within the GC student body. Students have also complained about how ineffective the new portal is in the format and preferred My Backpack. These criticisms from students show how what should be an easy interaction with Veracross can pose a challenge for students to access the information on their academic standing.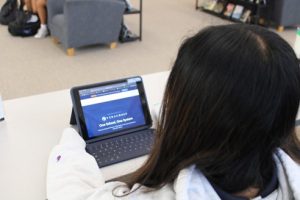 Student Opinions-
Seniors Marlyin Fosu '24 and Andrea Merino Perez '24 discussed the Veracross issue. They talked about their different opinions on similar aspects in Veracross. In expressing her thoughts, Marlyin Fosu '24 said, "I have mixed feelings about Veracross. I think it's because I've been so used to using MyBackpack. I don't like how the grades show up and break down on Veracross. I feel like it was easier to see on MyBackpack." But Perez had a contrasting opinion; she said, "I think Veracross, so far, is something that has been useful, at least to me, and I haven't had many issues with it. I like that the grade detail in the grades part of Veracross, for each of your classes, is helpful because you can see how your grade is processing in real-time and what you need to do to maintain or improve it more." These contrasting opinions demonstrate how some students may view an aspect of Veracross as frustrating, while others see it as a helpful source of information. It displays how aspects of Veracross can help students have a positive versus difficult understanding about its use. 
Conclusions- 
Furthermore, as students continue to navigate the platform, there have been fewer complaints and annoyances, indicating that students are adapting to using Veracross. But how long will it take for all students to fully grasp the intricacies of Veracross to access information, like report cards or important documents sent from school? For now, we will continue using Veracross, judge how it will serve as the new grading system for this school year, and see if we are better off without MyBackpack. 
Citations:
School Leaders Bootcamp. (2023). About Veracross. Toddle app. https://www.toddleapp.com/school-leaders-bootcamp/about-veracross/#:~:text=Veracross%20is%20the%20leading%20provider,workflows%20for%20faculty%20and%20staff.
Veracross. (2023). Veracross One school, One system . https://www.veracross.com/