IB Studio Art Projects
Recently, bulletin boards went up in the gallery that showcased the artworks of the students in IB Studio Art. These students are extremely talented, and people are missing out by overlooking their work.
Though the students are overflowing with creativity, art teacher Mr. Clulow also plays an important role in developing their artistic qualities. Room 119 is his realm, and he has covered its walls with artwork from current and former students.
When interviewed, Mr. Clulow said that he nurtures his students' talents by showing examples of art and not placing strict rules on what new art projects should be like. This way, the artists can let their creativity take control. He tries to understand the artistic visions of his artists so he can guide them into making those visions real. He buys the supplies that they need to do this.
Mo Balogun '24, a student in IB Studio Art, said that she found the class to be interesting and calming. She enjoys that it is not stressful and that she can complete work on her own schedule. She likes learning new concepts and analyzing artworks and techniques. Her favorite art mediums are oil and ceramics.
For example, depicted here is Gabriella Johnson's (class of 2023) mixed-medium display. Clearly, IB Studio Art encourages great invention; the display appears to be a sun, yet its rays are many different handheld appliances. Spark-plugs flow out of the bottom, connected to the devices.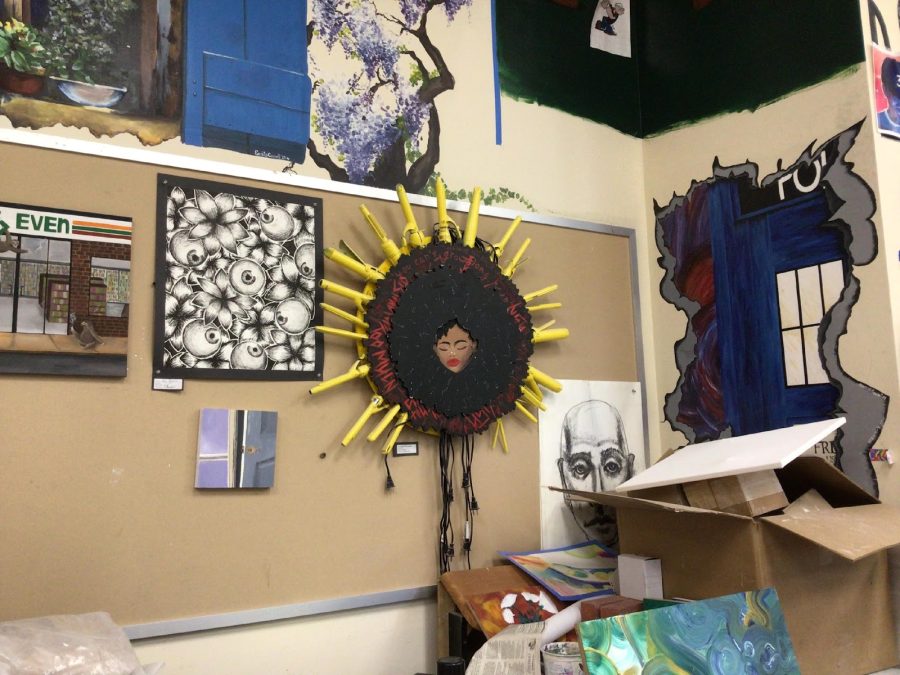 PJ Maneval '23, who works near the IB artists, provided a tour of the art displays and told more about the class. She says that getting into IB Studio Art in the first place is an arduous endeavor. Students must take Art Fundamentals and then an Honors Art class. Once students enter the class, they are expected to have some experience and proficiency in different modes of art.
Those bulletin boards that adorn the gallery hallway take a lot of work to finish. They showcase art from all the students' years at Good Counsel. IB Studio Art is a two-year journey, and art from previous classes can also go on display. IB Studio Art students have sooner deadlines for their art projects than other GC art students, so they must work at home to finish a lot of their art projects on time and get them put on the bulletin boards.
One of the things that make this class so special at Good Counsel is its unpredictability. Students always have a different experience creating each piece of art. Formats and media are very diverse. Art students use pastels, acrylic paint, clay, watercolor, and more. It could take three days to three months to complete a project. Before putting old art on display, students often revise their projects.
Each artwork also comes with a written introduction. Unlike AP artists, who create art for its own sake, IB artists create art that resonates with them on a personal level.
Students should see the artwork if they haven't. The students in IB Studio Art are producing stunning masterpieces.