The Club Q shooting: The Impact of Safety Within the LGBTQ+ community
On November 19, 2022, five individuals were killed in an LGBTQ+ nightclub in Colorado Springs. The five people murdered were Kelly Loving, Ashley Paugh, Derrick Rump, Raymond Green Vance, and Daniel Aston. The shooting left 19 others injured by gunshots. This event has created a grieving period within the LGBTQ+ community in Colorado and America. The Club Q shooting revealed how homophobia persists in our society today, and many people in the LGBTQ+ community are often targeted for expressing their sexual orientation and individuality. About 64% of LGBTQ+ members have experienced anti-LGBTQ+ abuse and violence towards them. Data reflects that 9 in 10 LGBTQ+ experience verbal abuse, while 3 in 10 experience physical abuse. These statistics display how prominent hate crimes are within the LGBTQ+ community. This article will focus on how students and teachers at Good Counsel reacted to the Club Q shooting and how the GC community can ensure and prioritize the safety of GC students in the LGBTQ+ community.
Response from Faculty and Staff
I first discussed this topic about the LGBTQ+ community with Mrs. Cabigas, the Coordinator of the Spectrum Club. The goal of the Spectrum Club is to educate others about topics within the LGBTQ+ community. The word "spectrum" comes from a rainbow, which represents diversity and unity within the LGBTQ+ community. The club is a space for LGBTQ+ students to feel welcomed and accepted for who they are. The mission statement states how "Spectrum aims to cultivate community among LGBTQ+ students and allies, stand together against bullying and violence, and promote an inclusive and equitable environment for all students." When Mrs. Cabigas discussed her reaction to the violence in Colorado, she stated, "I am deeply saddened that our nation is on a global stage once again due to gun violence. In this case, people in the LGBTQ+ community were targeted in a place they considered to be a safe space." She continued by saying "Catholic Social Teaching calls us to stand in solidarity with people who are persecuted and marginalized in society. The protection of people within the LGBTQ+ community needs to be grounded in an affirmation of the dignity of each human being." The protection of the LGBTQ+ community should be taken with extreme seriousness and importance. It's important to treat the members in the LGBTQ+ community with respect because, at the end of the day, they are human beings. It is deeply heartbreaking to see the lives of individuals be taken away just because of their sexual orientation. The shooting shows how heartless people can be towards individuals who display self expression and take pride into their identity.
I discussed with Mrs. Konglim, Good Counsel's Executive Director, Diversity, Equity, Inclusion & Justice (DEIJ), about how the DEIJ could contribute to ensure safety for members in the LQBTQ+ community at GC. She stated, "The Office of Diversity, Equity, Inclusion & Justice wants to ensure that GC is a safe space for every member of our community. With the recognition that the LGBTQ+ community, in particular, often experiences unique forms of discrimination and biases, it is extremely important to me that LGBTQ+ students feel welcomed, protected, and supported at OLGC. This is being done by ensuring that LGBTQ+ students have safe spaces to gather in affinity and alliance with one another, access to trusted and supportive adults, and all members of the GC community treat one another with dignity and respect. DEIJ consistently reinforces the OLGC diversity statement with the entire school community, supports student-led programming on LGBTQ+ issues, and seeks opportunities to ensure that LGBTQ+ students feel represented and welcomed in our school community." This further demonstrates how the resources at Good Counsel are implemented to reassure LGBTQ+ students that the school community is here to protect them and support their individuality. Good Counsel creates outlets and programs to extend their support and respect for students who are members in the LGBTQ+ community.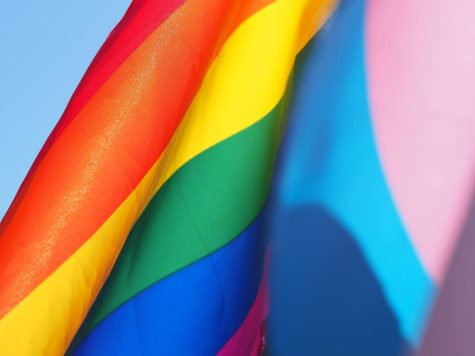 Responses from students
For this article, I interviewed three Good Counsel Students who are members in the LGBTQ+ community about their thoughts about Club Q and the importance of LGBTQ+ rights at GC, and they all revealed very insightful thoughts. Z Tate '24 expressed their reaction to the shooting by stating, " I felt that it was unbelievable because the level of harassment I was used to was minimal. There were places where I knew people would not be accepting, but I didn't feel that I would see that level of violence in my lifetime. It was jarring. I thought I would have to fight for things like adoption rights, non-discrimination, and representation—not the right to not get shot." Members within the LGBTQ+ community should feel safe and protected wherever they go. This illustrates how violence can cause one to fight for not only others protection but for their own protection as well.
Ang Bezo '24 was also asked for their thoughts on the shooting and how they thought that Good Counsel could ensure the safety of students in the LGBTQ+ community. They said, "Education. If we are able to educate our GC Falcons on LGBTQ+ topics, I believe our community would be safer, more accepting, and aligned with the principles we uphold as a diverse school. Additionally, when we are properly educated, we can hold each other accountable for underlying bias against the LGBTQ+ community." Another student, Ethan Cueto '25, said, "I think Good Counsel can help ensure the safety of LGBTQ+ students by caring for the mental health and well-being of them. The school needs to provide the help and resources a queer student needs because it is much more likely for a queer person to combat mental health." Ways that GC could educate students about LGBTQ+ rights are by creating a teaching lesson about the history of the LGBTQ+ community and how it has developed into one of the most influential movements in America. As a school community, GC can improve on creating mental health check-ins with counselors so that there is a way to assure students in the LGBTQ+ community that GC is making sure that they are comfortable and safe in a caring community.
The Club Q shooting has shown the importance of ensuring safety within the LGBTQ+ community and the need to end the pain and suffering amongst individuals who express their individuality. The shooting also demonstrates how homophobia still persists in our society today. As a society, we need to ensure safety to the LGBTQ+ community so that they feel supported as they express themselves. The Club Q shooting has made many members within the LGBTQ+ community feel unsafe and question if they have the ability to celebrate who they are without thinking about the harm that could occur in their day to day lives. This tragedy has created a heartbreak and devastation within the LGBTQ+ community that will take time for members to recover from.
As we move forward, we must all remember that everyone within and outside of the GC community deserves compassion, acceptance, respect, and love.
Sources
Stonewall. (n.d.). LGBTQ++ Facts and Figures. Stonewall.org.uk. Retrieved January 21, 2023, from https://www.stonewall.org.uk/cy/LGBTQ+-facts-and-figures