Unraveling the Art of Knitting
Have you ever received a hand-made blanket from a friend or family member? Or maybe you bought a knit hat at a craft fair. Did this make you wonder about the effort that went into making such an item, or why somebody would spend so much time creating one? Although the reason why is different for everyone, knitting is a beloved hobby for many Americans that has only increased in popularity since the beginning of the COVID-19 pandemic.
Looking for a new hobby in 2023? Knitting is a great one to try! Many people worry that knitting will be too hard and quit easily, but it doesn't hurt to give it a go. Christina Long '23, co-president of Good Counsel's Knitting Club, says that knitting is "confusing at first, but it gets fun and easier after [your first few tries]." If you're interested, after purchasing needles and some yarn from your local craft store, you can find videos and guides online to learn. But, if you're still concerned about the difficulty of traditional knitting, using a loom is an easier alternative to explore. I personally prefer a knitting loom because it's simple, but you can still make great products. However, if you use one, you are limited in the types of items you can make.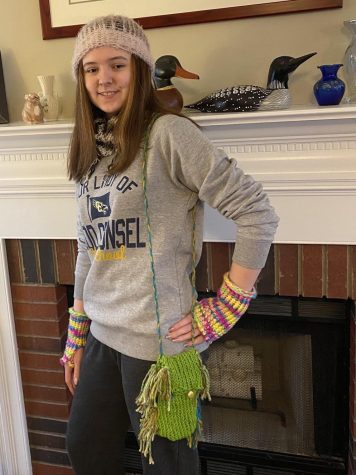 So, why should you knit? For some, knitting has become an escape from the stresses of everyday life. Christina comments, "It just takes your mind off of things. You can knit and block out everything else." Knitting regularly can actually reduce heart rate, blood pressure, and levels of cortisol, a stress hormone. It can also boost self-esteem and give a sense of accomplishment when projects are completed (Source). Mrs. Morrissey, moderator of the Knitting Club, enjoys "being an artist and creating things" when she knits. Maybe this combination of purpose and relaxation is why Americans often turn to knitting in periods of chaos. During World War II, a "Victory Knitting" movement was started by the Red Cross to make mittens for soldiers (Source). My 90-year-old grandfather even remembers sitting with his mother and knitting for the war effort.
Similarly, knitting became more popular in spring 2020, when COVID-19 forced us to stay at home. With extra time on our hands, we had the opportunity to learn new hobbies. I took up loom knitting during quarantine. I made infinity scarves for my grandmothers to give them as Christmas gifts when the lockdowns ended. I also made quite a few scarves, sets of fingerless gloves, hats, and headbands for my mom and I. Knitting, to me, was a distraction from the uncertainty around me, and it definitely helped fill my free time.
Now that we're returning to our pre-COVID lives, knitting can also be an opportunity for socializing. Mrs. Morrissey learned to knit in elementary school when her mom signed her up for lessons with a woman in her neighborhood. Other kids also took lessons with her, and she enjoyed hanging out with the group and knitting. Christina learned to knit when she joined Good Counsel's Knitting Club. She found out about it from her friends and decided to join because she wanted to "try something new, and." By joining a knitting club or class, you can make friends and have fun while learning a new hobby.
For others, knitting is a way to give back to their community. Many charities will take donations of homemade knit goods, such as blankets and hats. Good Counsel's Knitting Club exemplifies this, by creating blankets for the Linus Project during meetings. Christina was further inspired to join the knitting club after hearing about the Linus project, as it would be a good way to give back. They knit blanket squares and combine them with crocheting to form a bigger blanket for a child or baby in need. In the past, the knitting club has also made hats for breast cancer patients. By putting needles and some yarn together, you can have a meaningful impact on those in need.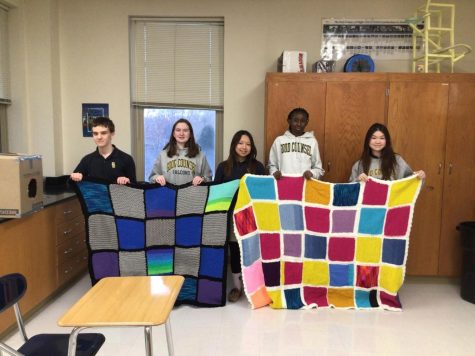 Knitting can bring us closer together, whether you're giving a hand-knit gift to a loved one, donating knit blankets to a charity, or knitting to improve mental health. I encourage you to try it, and hopefully it will bring you as much joy as it does to me and many others.
If you want to learn to knit, here are some links to help you get started:
A knitting guide for beginners
Good Counsel's knitting club meets on Mondays and Tuesdays from 3:30-4:00 PM. Members can earn service hours by making blankets for the Linus Project, and you can join even if you don't know how to knit. Email the club moderator, Mrs. Morrissey, or co-presidents, Christina Long '23 and Jane Thurber '24, if you want to join!
Sources
Brody, J. E. (2016, January 25). The health benefits of knitting. The New York Times. Retrieved January 16, 2023, from https://archive.nytimes.com/well.blogs.nytimes.com/2016/01/25/the-health-benefits-of-knitting/
Smith, R. I. (2020, April 1). Getting through a pandemic with old-fashioned crafts. The Atlantic. Retrieved January 16, 2023, from https://www.theatlantic.com/culture/archive/2020/04/crafts-coronavirus-quarantine-stress-relief/609187/