Good Counsel's Speech Team Excels at Tournament
Last Saturday (January 8, 2023), the Good Counsel speech team competed at the WACFL's (Washington-Arlington Catholic Forensic League) 4 Speech Congress Tournament held at SJC (St. John's College High School). 55 GC team members competed against 25 other teams.
Good Counsel's speech team is made up of 72 students. The 55 who competed represented six categories: Original Oratory, Declamation, Dramatic Performance, Oral Interpretation, Extemporaneous Speaking, and Duo Performance. Good Counsel students placed in 5 of those categories. Placement is based on a competitor's rankings and scores in a series of 4 rounds.  The placings were as follows: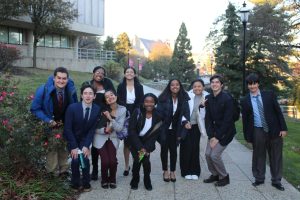 Original Oratory: 1st, Claire Williams (Sr); 2nd, Gabby Georges (Jr); 5th, Chukwudalu Dumebi-Kachikwu (Jr); 6th, Annika Girish (Jr).
Declamation: 1st, Charles Cobb (So); 3rd, Ethan Cueto (So); 4th, Miles Dinh (So); 5th, Noah Fisseha (Fr); 6th, Sophia Goncalves (So).
Dramatic Performance: 1st, Sophia Bordenick (Jr); 2nd, Valeria Morales (Sr).
Oral Interpretation: 1st, Valeria Morales (Sr); 2nd, Charles Cobb (So); 3rd, Cameron Thompson (Sr); 4th, Maggie Friel (Fr).
Duo Performance:
Team of Zimka Aghazu (Fr) and Aspen Johnson (Fr) 

Team of Gabby Georges (Jr) and Charlie Planty (Jr)

Team of Claire Williams (Sr) and Cameron Thompson (Sr)

Team of Ren Wambia (So) and Ethan Cueto (So)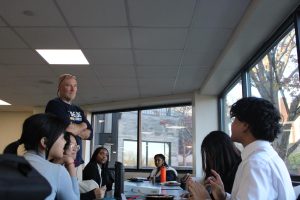 The WACFL 4 Speech Congress tournament was the largest league tournament to date. Good Counsel had the most placed members of any team that attended, making up ½ of placed competitors. "It was nice to be in a place with so many people all aimed towards the same goal," competitor Charles Cobb commented.
Congrats to all the speech team members who placed at this tournament, and we wish them luck in future competitions!