Happy Grandparents' Day 2017!
Hang on for a minute...we're trying to find some more stories you might like.
Gathering from across the United States, grandparents visited Good Counsel on November 17th, 2017 for our annual Grandparent's Day. Grandparents were invited to come early and take part in a morning Mass with Father Tom. After Mass, grandparents went to breakfast in the dining hall, where they enjoyed a lovely buffet which consisted of fruits, eggs, assorted breakfast meats, drinks, and coffee. The grandparents conversed on topics ranging from previously unknown connections they shared to places they enjoyed visiting.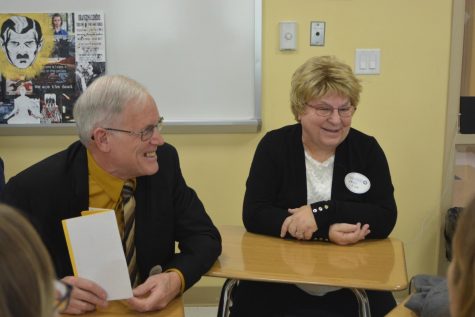 After breakfast, grandparents attended the third and fourth-period classes of a blue day. Some teachers taught their normal lessons or played games such as Kahoot, and others did interview-like activities. If a student had a study hall, students had the opportunity to give their grandparent a tour of the school.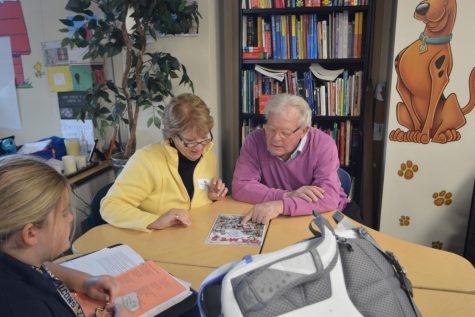 After classes, grandparents went to the performing arts center (PAC) for a performance by the students. They witnessed the jazz band's performance of "Solara" which is a Latin piece, and "Dis is Dat," an early jazz song. There were three solos in total, all of which were amazing. For example, Michael DeMarco, on the drums, improvised a portion of "Dis is Dat," which resulted in the crowd going wild.
Next the combined women's choir, which consisted of mostly freshman and sophomores, sang three songs: "To Music," "Winds," and "Inscription of Hope."  "Inscription of Hope" was incredibly touching, especially since it referred to the Holocaust and the hope of those being persecuted. The Poms did a fast-moving performance to Demi Lovato's "Sorry Not Sorry" and Alan Walker's remix of Sia's "Move your Body." Their routine was filled with straddles, jumps, twirls, and line kicks. Finally, theater gave an exceptional performance of an excerpt from "And Then There Were None." The play is about ten convicted murderers on an island. Each person begins to be killed off, causing the characters to question each other. In the scene performed, the murderers proposed safety measures to protect themselves; nevertheless, during the scene, two characters are killed.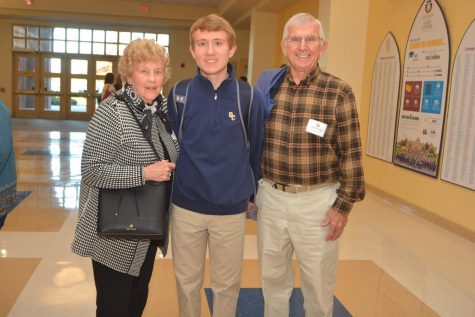 To conclude the day, Grandparents received blue Christmas-tree ornaments with "GC" on one side. Despite all the activities, the most amazing part of the day was watching a diverse community come together for a day of fun and family.