The Oscars: What Went Wrong?
The 2022 Oscars were a night to remember. A record-breaking and emotional win for the deaf-centric movie CODA brought tears to many eyes. Ariana DeBose taking home an Oscar for Best Supporting Actress as the first openly queer woman of color was a heartwarming moment for all. However, arguably outshining all of these incredible wins was the infamous altercation between Will Smith and Chris Rock. 
On March 27, 2022, hundreds of A-listers settled into their seats in the Dolby Theater. After two years of the event being held online due to COVID-19, many were glad to attend in person. However, the mood in the theater very quickly changed when it came time for comedian Chris Rock to give his comical monologue onstage. Chris began with a light jab at Javier Bardem and his wife, a joke which landed well with the audience and was met with enthusiastic chuckles. He then moved on to Will and Jada Pinkett-Smith, jesting, "Jada, I love you, G.I. Jade, can't wait to see it." The joke, a reference to Jada's recent hair loss due to an autoimmune disorder called alopecia, received mixed reactions from the crowd. Some laughed nervously, others boisterously, and some remained silent, unsure how to respond to the tasteless joke. Initially, Will was shown laughing spiritedly at the quip. However, the camera then panned to Jada, who was shown rolling her eyes, clearly not amused. Will's face suddenly changed, and while Chris attempted to defend his joke, he began to sputter nervously as Will approached him on the stage. In a moment that shocked all, Will then smacked Chris on the face and trudged back to his seat. Gasps rose from the audience as everyone tried to figure out whether what had just happened was real or a bit. Will, from his seat, began to spurt obscenities at Rock, yelling, "Keep my wife's name out [of] your ******* mouth!" To which Rock responded, "I'm going to, okay?" Though Chris Rock did his best to move on and keep the air light afterward, the slap was not received lightly by social media, with an uncensored twitter clip of the incident reaching nearly 50 million views in a few short hours. Will Smith issued an indirect apology to the Academy during his acceptance speech for his Oscar, but the damage was already done. The slap would go down in Oscar history.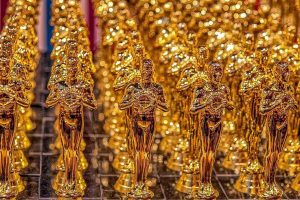 In the days following the incident, uncertainty filled the air. Would Will Smith be forced to return his Oscar? Would he be banned from the event going forward? Would Chris Rock? How did Jada respond? The media swarmed with questions. On April 8, almost three weeks after the affray took place, the Academy responded. 
"The 94th Oscars were meant to be a celebration of the many individuals in our community who did incredible work this past year; however, those moments were overshadowed by the unacceptable and harmful behavior we saw Mr. Smith exhibit on stage…The Board has decided, for a period of 10 years from April 8, 2022, that Mr. Smith shall not be permitted to attend any Academy events or programs, in person or virtually, including but not limited to the Academy Awards." (Variety)
Will Smith resigned from the Academy, publicly apologized to Chris Rock, and humbly accepted the Academy's decision. While the issue seemed to be resolved between the main parties, social media fans were ablaze, with some stating that Smith was justified in his actions and others arguing that he took it a step too far and should have handled the matter in private. Memes and gifs quickly made their way across the internet, and several trending hashtags took over the Twitter platform for a matter of days. The event is undoubtedly immortalized and will likely follow Smith for the remainder of his career. While Jada has yet to comment on it, she has promised an in-depth discussion on her talk show, Red Table Talk. 
What do you think? Should Will Smith have addressed Chris Rock privately? Or was he right to defend his wife? Leave your thoughts in the poll below.
What do you think about the incident between Will Smith and Chris Rock?
Sorry, there was an error loading this poll.
Credit:
Davis, C. (2022, April 8). Academy bans Will Smith from Oscars for 10 Years. Variety. Retrieved April 22, 2022, from https://variety.com/2022/awards/news/oscars-will-smith-consequences-chris-rock-1235228010/