Flavorful Fall Recipes
When the weather starts to cool down and leaves fall from trees in colorful masses, the distinct feeling of autumn permeates the air. The same aura of the season can be incorporated into tasty meals with these delectable recipes. Using classic fall fruits and veggies like squash, pumpkins, and apples, the following treats are a celebration of harvest time. Pull out your apron and have a great time bringing the flavor and fragrance of fall into your home!
1. Pumpkin Smoothie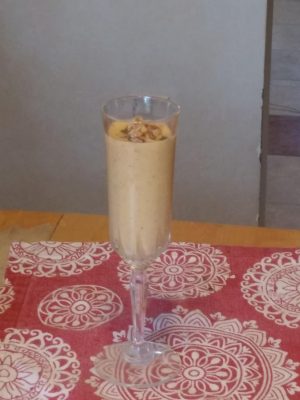 You don't have to stop by Starbucks to enjoy a refreshing fall beverage. If you love pumpkin pie, you'll love this smoothie. Its creamy consistency is satisfying and it will soon become a must-have for the season.
Ingredients:
1 frozen banana
¼ cup pumpkin purée
¼ cup yogurt
1 cup almond milk
1 tbsp. almond butter
½ tsp. cinnamon
Pinch of nutmeg and ginger
2 tbsp. of chia or flax seeds (optional)
Pumpkin seeds or granola to top (optional)
Steps:
First, place the banana, pumpkin purée, almond milk, yogurt, almond butter, cinnamon, and spices in a food processor or blender. Blend until the ingredients are combined and the smoothie has formed a creamy consistency.
Pour the mixture into your favorite cup or mug, and sprinkle pumpkin seeds or granola on top if desired. 
Derived from https://www.onceuponapumpkinrd.com/frozen-pumpkin-smoothie/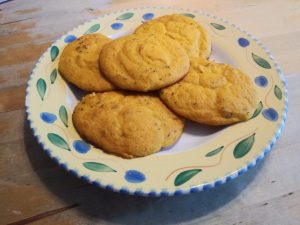 2. Savory Pumpkin Herb Biscuits
These healthy biscuits are a great autumn snack or breakfast treat. These biscuits personify the season perfectly, and are truly comforting on a brisk day.
Ingredients:
½ cup canned or cooked pumpkin
2 tbsp. of milk 
3 eggs
¼ cup olive oil or melted coconut oil
½ tsp. rosemary
½ tsp. thyme
1 cup flour (almond or coconut works fine)
1 tsp. baking powder
2 tbsp. honey (optional)
¼ tsp. salt (optional)
Steps:
Preheat the oven to 350 degrees. Stir together the pumpkin, milk, eggs, oil, honey, and herbs in a medium-sized bowl. In a separate smaller bowl, mix the flour, baking powder, and salt. After both mixtures are thoroughly combined, pour the dry ingredients into the wet ingredients and stir until the batter is smooth. 
Scoop about eight equally sized biscuits and place on a prepared baking sheet. Bake for 20 to 30 minutes until the biscuits are golden brown. These biscuits taste best warm and fresh, so make sure to have a bite soon after baking!
Recipe adapted from The Brain Warrior's Way Cookbook by Tana and Daniel Amen
3. Acorn Squash Soup
If you are looking for a more filling fall recipe, this soup is a soothing meal by itself. With scrumptious squash as a base, this recipe exemplifies harvest time. Though this recipe requires more preparation than the others, the rewarding, healthy taste is definitely worth it.
Ingredients:
2 acorn squash
2 medium sweet potatoes
2 tbsp. olive oil
¼ tsp. salt
¼ tsp. pepper
1 tbsp. olive oil
1 cup diced onion (about 1 medium onion)
1 cup diced carrots (about 2 carrots)
1 cup diced celery 
3 cloves garlic minced
3 cups water or vegetable broth
3 cups roughly chopped cauliflower (about ½ a head)
Topping ideas: pumpkin seeds, feta cheese, crushed red pepper, herbs
Steps:
Preheat the oven to 400 degrees. Then cut squash in half vertically and spoon out the seeds. Next, peel the sweet potatoes and chop them into medium sized pieces. Lightly cover the sweet potatoes and squash with 2 tbsp of olive oil. Add salt and pepper on top for added flavor. Place the pieces of sweet potato and squash halves facing up on a baking sheet. Bake for 45 to 60 minutes, until they are beginning to soften.
While the squash and sweet potato are baking, heat 1 tbsp of olive oil in a pot over medium heat. Stir the chopped onion, carrot, celery, and garlic in the pot for about 5 to 7 minutes, stirring often, until they are soft. Then add the water (or broth) and cauliflower to the pot, letting it boil for about 10 minutes until the cauliflower is soft.
When they have finished baking, spoon out the flesh of the acorn squash shells and add it and the cooked sweet potato to the pot of soup. Blend the soup together with a blender until the mixture is combined, smooth, and creamy. It is best served warm either inside the empty acorn squash shells or in a bowl. Top with pumpkin seeds, feta cheese, or crushed red pepper for extra zing.
Derived from https://www.liveeatlearn.com/acorn-squash-soup/
4. Apple Crisp
This classic fall recipe is perfect after a day of apple picking – or just to celebrate the season. The warm, soft apples perfectly complement the crunchy topping. 
Ingredients:
6 medium apples 
3 tbsp. water
3 tsp. cinnamon
1 cup old-fashioned or quick oats
1/2 cup almond flour or almond meal
1/2 cup chopped almonds, walnuts, or pecans
1/4 tsp. salt
1/4 cup melted coconut oil or butter
1/4 cup maple syrup (substitute with honey if desired)
Steps:
Preheat the oven to 350 degrees. Then, peel and dice the apples into medium-sized cubes. Combine the apples, in a large bowl, with 1 tbsp. maple syrup, water, and 1 tsp. cinnamon. Pour the apple mixture into a greased 8×8 inch baking dish.
Stir together oats, almond flour, nuts, cinnamon, salt, coconut oil or butter, and remaining maple syrup in a bowl. Sprinkle mixture on top of the chopped apples in the baking dish.
Bake the crisp for 40 to 45 minutes until the apples are soft. To keep the crisp from browning too much, cover the dish with aluminum foil halfway through baking. After the crisp is finished, remove from the oven and it is ready to enjoy. This tastes best warm with a dollop of vanilla ice cream on top!
Derived from https://www.healthy-liv.com/best-ever-healthy-apple-crisp/
5. Pumpkin Cheesecake
This tempting dessert is great to celebrate the fall season or for any special occasion. Its double layer creates a harmony of flavors that make every bite a delight. Served with ice cream or by itself, this cheesecake will soon become a favorite fall tradition.
Ingredients:
2  – 8 ounce packages of cream cheese
3/4 cup sugar
1 tsp. vanilla
3 eggs
1 cup pumpkin purée
1 tsp. cinnamon
¼ tsp. nutmeg
1 graham cracker pie crust
1 tsp. pumpkin pie spice (optional)
Steps:
Preheat the oven to 350 degrees. Blend the cream cheese, sugar, and vanilla thoroughly with an electric mixer. If you choose to add extra spice, this is the time to add it in. Add eggs one at a time, making sure they are completely combined. After the cheesecake mixture is fully blended, pour half of the batter into the graham cracker pie crust. Then mix the pumpkin purée into the remaining batter. Pour the mixed pumpkin batter on top of the original cream cheese filling.
Bake the pie for 50 minutes or until the surface of the pie no longer wobbles. Allow to cool and then place in the refrigerator for 4 hours. The pie is now ready to eat!
Courtesy of the Siegle family
Picture credits: Sarah Siegle