Cross Country Varsity Team Dominates the Competition!
On September 25th, the Good Counsel Girls Varsity Cross Country team brought home the "gold" so to speak, as the team won first place out of 11 teams at the Chesapeake Invitational 2021 meet. This first-place victory was last achieved in 2019 at the Bullis Invitational, but the competition was stiffer in this race. The Falcons defeated the host team, Chesapeake High School, by a narrow margin of 4 points.
Many of the runners ran their best times of the season with several PRs, including Leah Stephens 23' taking first place overall. Stephens finished the race in 18:15, winning by over 70 seconds and surpassing her school record of 18:35.
Isabella Sauro 22' came in 7th place overall in 20:52m saying "We have been putting in the work for months and it's such a fantastic feeling to be able to feel everything coming together…This past Saturday is just the beginning of many great things to be accomplished this season! Every single member of the team is such an invaluable part of our success, and I'm so proud, and grateful of our team."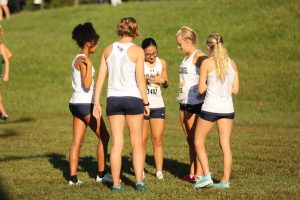 Julia Flick 22' achieved a new PR at 21:53. "I was so happy we had enough girls to score for the first time this season, I didn't expect that we would win the whole meet," Flick exclaimed. "I was excited for this meet because of the relatively flat terrain and the lower temperatures. When I crossed the finish line with a season record time I was thrilled! I am extremely proud of how all my teammates ran today."  
Elizabeth Garland 22' completed the race in 22:32 solidifying the team's victory saying "I'm very proud of the team, everyone truly gave their best effort." 
Selah Decatur 24′ finished in 9th place at 21:07. 
Head coach Katrina Wavering and the coaching staff were thrilled by this victory. "This is the fastest girls' team we have had in my 3 years with GCXC," Wavering said. "Many of these girls put in many hours of training on their own during the pandemic with few opportunities to compete as a team. I am so happy that they get to see their hard work finally pay off!" 
The Varsity boys had a strong day, finishing in 7th place out of 15 teams. Aaron Siegle 22' placed 13th overall with a 54 second PR in 17:28. In addition to Siegle, Jackson Manning 25' and Matt Culkin 25' had strong finishes in 18:45 and 18:50. Noah Cassil 23' and Patrick Donahue 24' finished in 18:51 and 19:01.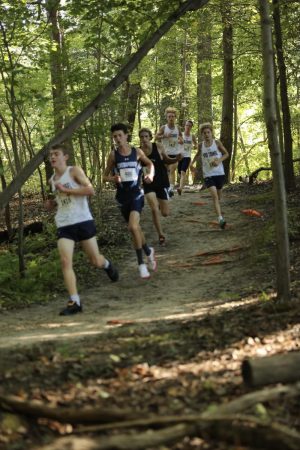 Come out to cheer the GC Cross Country team on to their next victory at the Maryland Invitational in Timonium, Maryland on October 9th.
*Special thanks to Music and Memories Professional Event Services for providing photos of the event*