Student Petition: Cancel the Math and Science Finals
"Finals." This word causes students all over the world to shiver in fear.
At Good Counsel, however, there has been a recent petition gaining traction. Started on Mar. 24 and having gained over 700 signatures as of Mar. 31, the student-initiated petition to end math and science final exams is directed at school president, Dr. Barker, and principal, Mr. Campbell.
"
School has definitely been really stressful these days. If I'm being honest, I don't know how effective [the petition] will be, but I think it's a good way to try and help the students."
— Vaani Passey '24
The petition has been spread widely on social media and through word of mouth, and many students are reacting positively toward it: "It's been a tough year and all of us have been impacted drastically by COVID and the teachers should consider making accommodations concerning finals and grades for the best of the students," Kayden Tuffour '23, said.
GC has already made some changes to the curriculum as a result of COVID-19, including a homework and lecture time limitation. However, some proponents of the petition believe that the rise of mental health issues and stress during the pandemic have made the event of finals too hard to bear. 
"I think during this stressful time of the school year, [finals,] adds on to the stress students feel while trying to balance mental health, a pandemic, online schooling, and other things at the same time," said a junior who asked to remain anonymous.
While our Student Government Association co-presidents declined to comment, other students and even parent Michelle Santos gave their reasons for signing on the petition website.
That being said, some students believe that while the act of cancelling finals may be beneficial, it is not a sensible venture. "I agree with Kayla, but to be honest, the petition is kind of pointless because [administration] said they're not cancelling finals," Errik Onyekwere '22 said. "I respect her for trying though."
Vaani Passey '24 added that "School has definitely been really stressful these days. If I'm being honest, I don't know how effective [the petition] will be, but I think it's a good way to try and help the students."
On the other hand, some students maintain that finals is the right way to go.
One junior commented about the possibility of finals being held earlier this year and said "One pro of having finals is maybe since they're so early the material afterwards should theoretically be easier."
"It wouldn't be fair," said another critic from the class of 2022. "Students from all grade levels, especially juniors and seniors have to take finals in the form of AP exams. Why should some people be relieved from studying?"
It is certainly reasonable to consider this, as a portion of the student body will take AP and IB  exams this year, which replace school specific finals and are thus unaffected by the petition.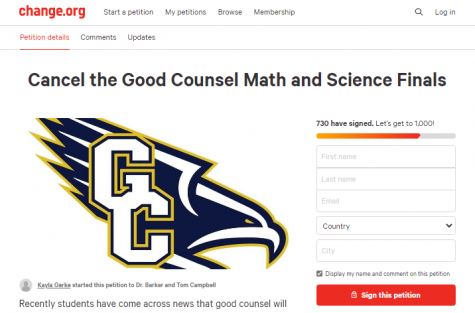 Other teachers, particularly from the math and science departments, have shared their opinions with the Talon. "Giving final exams is not about heaping on extra work for no reason….While preparing for a final exam, many of my students make connections between units and are better able to see the big picture," said math teacher Colleen Shames. "Taking the time to study for a cumulative exam…helps to enhance long term retention of material."
Kayla Gerke '22, stands by her opinion, however, stating, "Students have been under a tremendous amount of stress and pressure which has impacted our ability to learn … a gesture such as cancelling these two finals will go a long way to improving our mental health and ability to cope with our current stressors." 
What do you think? Should the school administration consider, disregard, or even modify the petition? If you have an opinion, drop a comment down below!

Loading ...