The Atlanta Spa Shooting: Rise of Anti-Asian Racism
What happened
The Asian community is mourning the loss of eight individuals who were shot and killed on March 16, six of whom were Asian women. 
Among the victims of the shooting—Soon Chung Park, Hyun Jung Grant, Suncha Kim, Yong Ae Yue, Delaina Ashley Yaun, Paul Andre Michels, Xiaojie Tan and Daoyou Feng—were diligent immigrants, loving mothers, and ambitious business owners.
In the Cherokee County Sheriff's Office press conference that took place shortly after the crime, Capt. Jay Baker, the spokesperson for the case, claimed, "He was pretty much fed up and kind of at the end of his rope. Yesterday was a really bad day for [Robert Aaron Long] and this is what he did," referring to the shooter. Baker's statement sparked an outpour of criticism and outrage from the public. It, along with dozens of other attacks on Asians that are not being acknowledged as hate crimes, explicitly demonstrates how widespread indifference towards the Asian struggle is—how the heinous murder of six Asian women is insensitively diminished to the result of a "bad day".
The shooter himself denied all allegations of the crime being racially motivated, and officials have declared that it was provoked by a "sex addiction". This incident shines a glaring spotlight on the dangerous intersection of anti-Asian sentiment and misogyny. Many are looking back at how Asian women have long been stereotypically portrayed in media culture: as exotic, as submissive. The shooter did not merely have a "sex addiction"—he specifically targeted spas where his victims would disproportionately be Asian. He dehumanized Asian women to the point at which they were not seen as dignified human beings, but mere triggers of a man's racist and sexual perversion that ought to be eliminated.
Racism is not new
Yet bigotry towards Asians is far from new. The horrifying spa murders have drawn attention to the thousands of hate crimes that have plagued the Asian community, including the murder of an 84-year old Thai man, two people setting an elderly 89-year old Asian woman on fire, the stabbing of a 36 year old Asian man, and an unrelenting string of other attacks. In fact, since the start of the global pandemic last year, anti-Asian hate crimes—disproportionately skewed towards the eldery—have skyrocketed by a staggering 1,900 percent in New York City alone.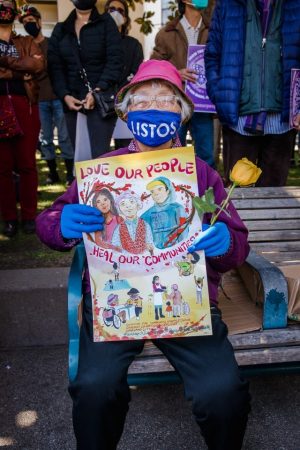 Though this number is massive, to the Asian community, it is no longer surprising. The demonization of Asians for the pandemic, bolstered by the previous administration's use of terms like the "Chinese virus", has triggered a steep rise in anti-Asian sentiment, evident all the way from "Kung-flu" jokes to assault, and to blatant murder. 
Though racism towards the Asian community has occurred for decades, the immigrant generation has often taught their Asian-American children one recurring lesson: that coming to America for a chance at a better life is a blessing, and that blending into American culture is necessary to be successful. To, in the face of prejudice, turn your cheek. 
Today, the new Asian generation seeks to dispel this harmful culture of docility; to firmly stand up against vitriol, no matter if it's in the form of a dog-eating joke, or if it's grandmothers and grandfathers being beaten on walks to the grocery store. Thousands of protestors across the country have taken to the streets, fed-up with the nation's constant failure to protect Asians, its deep-seated racism, and its incredulous attitude towards anti-Asian bigotry. Holding powerful signs illustrated with declarations like "Stop Asian Hate" and "We Are Not A Virus," 1,000 protestors gathered in San Francisco, hundreds at the massage spas where the shootings took place in Georgia, and thousands more in Chicago, Albany, New York City, and D.C.
Though the future of Asian racism in America is unclear, what is certain is that we won't stop fighting for equality, for respect, for every Asian who has been called a slur and whose language has been mocked, for the victims of thousands of hate crimes, and for our own families and friends. 
We are not a virus.