Childhood Food You Will Never Forget
Do you have a favorite childhood food that will stick with you forever? Well, products targeted towards younger crowds are always fun, creative, and pleasing to the eye, especially when it comes to food. The food industry is challenged to create entertaining, enjoyable, and delicious foods that will attract young kids' senses. 
A significant way companies do this is through cereal. The mouthwatering, sugary, colorful, and crunchy cereals are not only pleasing to the taste, but their striking packaging and slogans attract a myriad of young kids. Cereals that match this description perfectly and are unforgettable are Cocoa Puffs, Cinnamon Toast Crunch, Cap'n Crunch, Fruit Loops, and Lucky Charms. Gabby Georges '24, a freshman at Good Counsel, says: "I remember eating Fruit Loops every morning as a kid, and looking back, it makes me crave them again."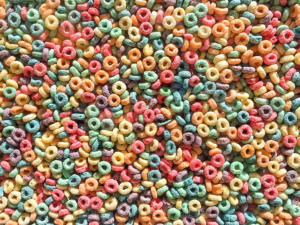 In addition, sugary drinks like Yoo-Hoo chocolate milk, Caprisuns, SunnyD, and Kool-Aid were always pleasurable, colorful drinks that brought excitement and light to any meal. It's impossible to forget snacks like Danimals, GoGo-Squeez, Gushers, Scooby Snacks, and Animal Crackers: all staples in childhood. Another way companies brought joy into meals was through silverware and plates. I remember vividly being excited to use animal paper plates and my favorite Disney character cups to enjoy my snacks. Another Good Counsel student, Lia Frankowski '24, reminisces, "I remember my mom buying those plates when I was little! My favorite one was the panda". 
Childhood snacks are a hallmark of our time as young kids. We may physically grow older. But happy memories of the favorite foods we enjoyed as children bring us back in time and ensure that we never forget those good years.