Two Exceptional Teachers of the Year Earn an A+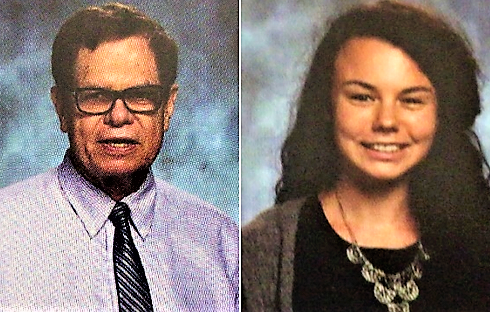 The High School Principals' Association (HSPA) Teacher of the Year award is given each year to outstanding teachers from two categories: veteran and novice. This year, Mr. Burns was selected as the Veteran Teacher of the Year and Mrs. Wavering, formerly Ms. Hrabinski, as the Novice Teacher of the Year. Both have worked diligently to make sure that their students are getting the best education possible and are exemplary models of the Xaverian values. 
The HSPA established these awards "to recognize the devotion of veteran and novice Catholic secondary school teachers in the Archdiocese of Washington. They speak to the value we all place on faithful service, excellence, best practices, and innovations in Catholic secondary school teaching" (adwcatholicschools.org)
Mr. Burns has been teaching at Good Counsel for 42 years, starting in 1978. Before that, he taught at St. Anslems for 8 years. He attended the University of Rochester and Catholic University. This year he is teaching AP Comparative Government, AP U.S. Government, and Modern Russian History. 
Mr. Burns says he likes to think he teaches about life's, "high and lows and the perseverance of humans in trying to build a better world based upon Jesus's call 'to treat others as you would like to be treated." He excels at engaging the students in his lessons and helps them to grow as students and people. 
Fellow social studies teacher, Mr. Redmond, attests to this by saying, "Mr. Burns is always happy to share his gift for teaching not just with students but with colleagues; he is eager to talk about his experiences in and out of the classroom, and goes out of his way to offer help and encouragement to new teachers." He also brings his enthusiasm into the Government and Politics Club, which he moderates. Mr. Burns's diligence and graciousness have become an integral part of the Good Counsel community.
Mrs. Wavering came to Good Counsel just last year, and she has already made a significant impact. As part of the English department, she brings her passion and energy into English 10 and Ryken English 10. She attended the University of Maryland. One of her favorite jobs at Good Counsel is being the assistant cross country coach, since she loves everything about running. 
Ms. Neugebauer, another English teacher at GC, speaks to Mrs. Wavering's hard work: "I am so proud to call Mrs. Wavering my friend and colleague! As a first year teacher she demonstrated dedication and compassion for her students both in and out of the classroom as a teacher and as a cross country coach. I am impressed by her determination to meet the needs of her students and contributions to the sophomore teacher planning team. Congratulations to her on this momentous honor as New Teacher of the Year!" Mrs. Wavering's positive attitude and stimulating lessons make her classes very enjoyable and capture students' attention. She has been a valuable addition to the faculty and we can't wait to see what she will do in future years at Good Counsel.
Find out more about these talented teachers by reading the interviews below.
What are your reactions to receiving this award?
Mr. Burns:  ​I was surprised and pleased.  At this point in my long teaching career, I was not expecting any formal awards, but it always feels good to be recognized.
Mrs. Wavering: With everything else going on this fall, these awards were not on my radar at all, so I was pleasantly surprised!
Why did you decide to become a teacher?
Mr. Burns: I don't think there was any single moment when I decided to become a teacher.  When I was in grade school, I thought of being a medical doctor because I liked helping people…as a young teen I dreamed of being a professional football player as I thrived on athletic competition…in graduate school I planned on working in the Foreign Service because I believed I had a gift for resolving conflicts between opposing sides. It wasn't until I had taught for a number of years that I concluded that teaching was my career.   In a sense, teaching is a combination of my previous ideas about a career–like a doctor, I help people: like an athlete, I believe competition brings out our best; and like a diplomat, I try to understand other people and help them overcome their problems. 
Mrs. Wavering: I decided to become an English teacher because I love studying and creating beautiful writing, and because I love helping people gain skill and confidence in expressing themselves through their words. I discovered this through my tutoring job at the Writing Center when I was in college.
What is your favorite part about being a teacher?
Mr. Burns: I have found interacting with my students, both academically and personally, is what I especially enjoy doing. Some of my former students have become close friends and that has been very fulfilling.
Mrs. Wavering: My favorite part about being a teacher is the fact that my students always surprise me. I like never knowing exactly how things will go when I walk into a classroom – it keeps me on my toes to encounter so many different personalities and learning styles every day.
What advice do you have for your students and other teachers?
Mr. Burns: Always do your best…your work should be both challenging and fulfilling.  Be able to laugh at yourself when you stumble…and realize that listening is often more important than talking.
Mrs. Wavering: Keep daily setbacks in perspective and be flexible (especially nowadays). Above all, just keep showing up to do your job, and do the best you can each day, even on the days that feel overwhelming from the moment they begin. I had a teacher in high school who often told us in times of stress, "Do the best that you can with the time that you have for the glory of God." I carry this advice with me to this day.