ProcrastiBaking
Wary of baking? Jump right in…don't put it off!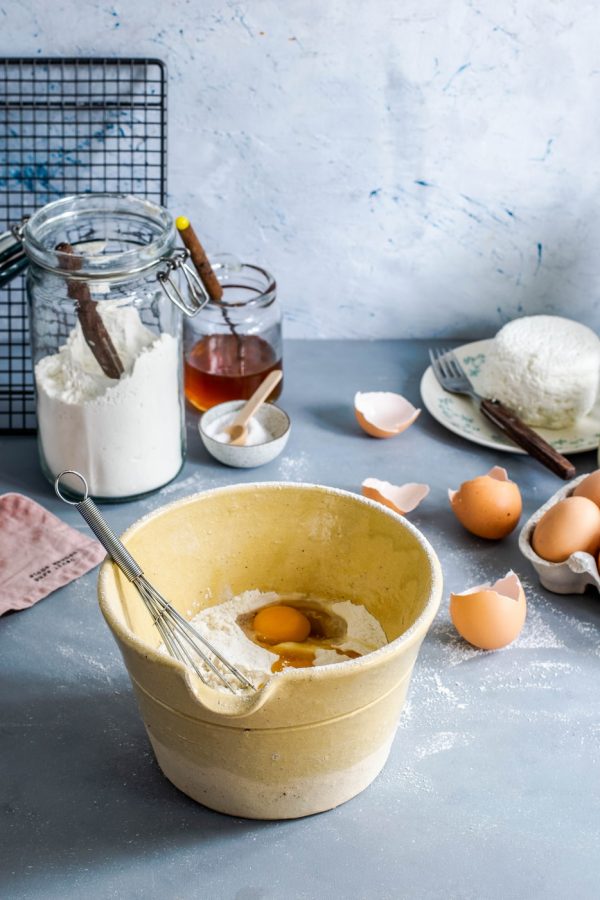 Kate Nonnenkamp '23, Staff Writer
May 12, 2020
Many people have started baking in this quarantine. Getting started in baking is like opening the door to a world you never knew existed. There are so many crazy things to make, so I have selected a few of my favorite bakes for you to try. They get harder as you go, starting with easy scones, then a no-knead bread, and finally Italian macarons. There are also some smaller recipes if you don't want the hassle. I have also included a list of substitutions for some ingredients. Substitutions are great when you don't have a specific ingredient, but they can offset the texture and affect how the bake works. Different substitutions produce different outcomes, so do your research!
Before we get to the delicious treats, I have a few pearls of wisdom to share.
Follow the directions! This is so important for success.
Read carefully and always preheat the oven. Preheating is extremely important; slowly heating a dish up is very different from heating it up quickly.
Don't get too focused on your end result. While these recipes all work, they can take a few tries to perfect. You have no guarantee of being successful, so enjoy the process!
Be safe. Hot ovens and pans can burn you badly. Knives are sharp, and bowls can shatter. Always unplug your mixer after using it, and be mindful of others in the kitchen.
All of these things will help you learn fast and have a good time. If you are willing to put in the work, baking is a rewarding hobby. Have fun!
Easy Mode-Cinnamon Chip Scones                                                                                                                          Recipes from How to Cook Everything by Mark Bittman
Scones are a classic British tea-time snack. They are a delightful combination of buttery and fluffy. The dough is essentially a pastry: a flour mixture combined with butter. And like pastry, the consistency of the butter is key. Room-temperature butter is too soft for most types of pastry. This means you have to be careful not to heat the butter while mixing, aka don't use your hands that much.  A pastry blender is very helpful for that, but you can use your hands as long as you are quick.
It is also possible to make this dough in a food processor, but I find that unnecessary. If making it in a food processor, simply combine the dry ingredients and pulse together with the butter. It is helpful to cut the butter into pieces. Follow the rest of the recipe from there.
The recipe calls for cream. However, this can be substituted with milk, but it will make a bit of a denser scone. There is also the option for an egg wash. An egg wash makes the scone shiny and gives it a better crust. If you want to apply an egg wash to the scones, beat one egg and brush it across the scones before putting them in the oven. Then, sprinkle them with a bit of sugar. Scones with an egg wash will be darker, so look for a golden brown when taking them out of the oven.
Notably, this recipe includes cinnamon chips. Cinnamon chips (sometimes called cinnamon drops) are little morsels, similar to chocolate chips, that are made of cinnamon and sugar. They are commonly found at Amish markets. There are many varieties of cinnamon chips, so if you wish to find these specific chips, I recommend you look at Amish markets.
However, if this does not strike your fancy, this recipe can be easily made with raisins or chocolate chips. You can add pretty much anything to the dough once it is made: spices, cheese, and more. However, cinnamon chips are a staple in scones for me, and I will always recommend them! Nothing beats the sweet smell of cinnamon and sugar wafting through the house on a Saturday morning!
Cinnamon Chip Scones
Time: 30 minutes
Requires:
1 large baking sheet
A pastry blender [optional]
Small round glass or cookie cutter, about 2" diameter
Ingredients:
2 cups of all-purpose flour or cake flour, plus more for kneading
1 scant of teaspoon salt
4 teaspoons of baking powder
1 tablespoon of sugar
5 tablespoons of cold butter
2 eggs
¾ cup of cream
⅓ cup of cinnamon chips, or other add-in
Directions:
Preheat the oven to 450 degrees F.
Mix the dry ingredients in a bowl. Cut the butter into bits and rub the dry mixture and butter together with a pastry blender or your hands, taking care not to warm the butter. The mixture should be thoroughly blended but still dry.
Beat the eggs with the cream in a bowl. Combine them with the dry mixture. Fold in the cinnamon chips or other add-in.
Turn the dough onto a lightly floured surface and knead it 10 times. It should be slightly sticky.
Flatten the dough until it is ¾" thick. Cut 2" rounds with a glass or cookie cutter. Put the rounds onto a large ungreased baking sheet. Reshape the leftover dough and cut again until there is no more dough, being wary of warming the butter.
Bake for 7-9 minutes until the scones are just becoming brown and have a nice outer crust.
Eat immediately.
Medium Level – No-Knead Bread                                                                                                                              Recipe from New York Times Recipes https://cooking.nytimes.com/recipes/11376-no-knead-bread
Bread is made of a few main ingredients: flour, water, salt, and yeast. The flour, water, and salt make the dough, while the yeast makes it light and fluffy. This yeast is the reason bread dough has to rise. It goes through a process called fermentation, where the yeast converts glucose sourced from the flour into carbon dioxide. This makes the dough expand. However, this means you have to be careful not to squash all the air out. This dough is not supposed to be kneaded much, so it shouldn't be a problem.
Bread is a bit of a fickle thing. It takes a long time to rise, and you only know it was made right when you stick it in the oven. However, this recipe has never failed me. My mother made this for years whenever we had soup, and now, in this quarantine, she has passed it on to me. Nothing rivals the warm, fluffy texture of fresh bread.
This recipe usually requires a Dutch oven—a type of heavy cooking pot with a lid. Dutch ovens are commonly used for stews and breads, as they can hold heat very well. If you don't have a Dutch oven, a 6-8 quart oven-proof pot with a lid will work just fine. In both cases, the pot is placed in the oven while it preheats so that the pot is very hot. This will ensure a nice crispy crust.
Yeast is an important part of bread. There are two main kinds of store-bought yeast: active and instant. Active yeast requires proofing, which will usually be detailed on whatever the yeast is contained in—packet, jar, etc. Instant yeast can be put straight into the mixture.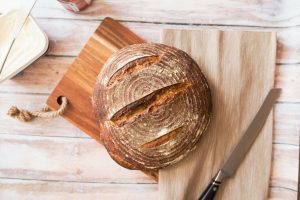 No-Knead Bread:
Time: 1 ½ hours, plus about 20 hours resting time
Requires:
A Dutch oven or 6-8 quart oven-proof pot with a lid
Silicone mat or kitchen towel
Ingredients:
4 cups of unbleached all-purpose flour
2 teaspoons of salt
½ teaspoon of yeast [either active or instant]
2 cups of water
Directions:
Prepare the yeast following the directions on its container.
Stir all of the ingredients until the dough comes together.
Place into an oiled bowl, cover and put in a warm spot overnight.
About 4 hours before serving, turn the bread out onto the floured surface of a silicone mat or kitchen towel. Knead a few times, cover and let rest for 15 minutes.
Shape the dough and dust the top with cornmeal or flour. Cover and let rise for 2 hours.
30 minutes before the dough is ready, preheat the oven to 450 degrees F. While the oven is preheating, put a Dutch oven or 6-8 quart oven-proof covered pot in the oven.
Once the dough is ready and the oven is preheated, remove the pot from the oven and turn the dough into it.
Cover with the lid and bake at 450 degrees F for 30 minutes. Then, remove the lid and continue to bake for 20-30 minutes until the crust is golden brown.
Cool briefly before slicing.
Hard Mode – Macarons                                                                                                                                                Recipes from let the BAKING begin and allrecipes.
This French classic is generally recognized as a complicated bake. However, with some practice, your only enemy will be time. A macaron is a sandwich cookie, generally with a buttercream or ganache in the middle. They come in two varieties: French and Italian. The main difference is in the making of the meringue. The Italian version is used in professional kitchens and in this recipe, despite the dessert's French origin.
This dessert holds a special place in my heart. I took macaron-baking classes in France a few years ago. Ever since, I can say I have been pretty successful. There are still issues I face—my latest attempt ruined not one but two thermometers. However, macarons are more forgiving than one would think, and don't be afraid to restart parts of the recipe.
This recipe includes two parts: the cookie and the ganache. I recommend making the ganache while the cookies rest before baking, as the ganache needs time to set. These cookies can also be colored by either colored powder or gel. If coloring by powder, add it into almond flour/powdered sugar mix. If coloring by gel, add it into the meringue after the sugar syrup. In both cases, make the color stronger than you want in the result, it will dull with the addition of more ingredients.
Most of the measurements in this are in grams. In the absence of a scale, the cup/tablespoon measurements can be found on the original websites. Make sure to be careful when not using weight! Weight is the most precise measurement when baking, and two cups of one ingredient will not weigh the same as two cups of another ingredient.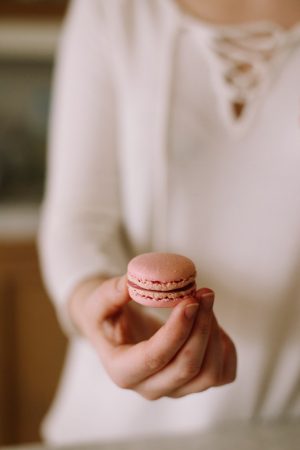 Macaron Cookie:
Time: 2-3 hours, depending on your familiarity with the recipe
Requires
A stand mixer
Two large baking sheets
A candy thermometer—able to withstand temperatures up to 250 degrees F
Two piping bags and one ⅝" [or similar] round plain piping tip
A kitchen scale
A small saucepan
Ingredients:
212g of almond flour
212g of powdered sugar
172g of egg whites [room temperature!]
236g +2 tablespoons of granulated sugar
158g of water
Directions:
Line two large baking sheets with parchment paper
Sift the almond flour and powdered sugar together twice in a large bowl
Separate the egg whites into 82g and 90g. Put the 90g into the (clean!) bowl of a stand mixer. Mix the other 82g into the almond flour/powdered sugar mixture.
In a small saucepan with a candy thermometer, combine the water and 236g of granulated sugar. Place over medium heat and stir until the sugar dissolves.
Once the sugar/water mixture reaches 235 degrees F, whip the 90g egg whites with the remaining 2 tablespoons of sugar until just foamy. (Continue to heat the sugar/water mixture)
Once the syrup reached 248 degrees F, remove it from the heat and pour it into the egg whites, running the mixer at the highest speed. Continue to whip the meringue until the bottom of the bowl is cool.
Then fold the meringue into the flour/sugar mixture in three parts. Be careful not to squash the bubbles in the meringue. Try to sweep the around the end of the bowl and fold the mixture over onto itself. The mixture should look like lava.
Fit a piping bag with a ⅝" round plain tip and fill with the macaron batter. To prevent spills, before filling, twist the bottom of the bag into the tip to make a blockage. To fill more easily, put the bag in a large glass with the ends draped over the edge of the glass.
Pipe the macarons in 1 ½" disks about 1" apart. Rap the sheet against a hard counter about 10 times to get out the bubbles. Then let the cookies rest for 30 minutes.
While the cookies rest, preheat the oven to 350 degrees F.
After the cookies have rested, put the sheets on at a time into the oven and bake for 10-12 minutes. To know they are done, press lightly on the top of a cookie: if it shifts or feels loose, keep them in the oven. If you did not color them, they should be a bit golden.
Take the cookies out and let them rest on the sheet for about 5 minutes. Then transfer to a cooling rack and try to pair up cookies of similar sizes.
Once they are completely cool, pipe the ganache onto half the cookies, about half the radius of the cookie. Put the tops on, twisting the top to even out the filling.
Wait. Macarons are best 24 hours after they are originally filled, as the filling has time to soak into the cookie.
Chocolate Ganache                                                                                                                                                                from allrecipes.com
Time: 20 minutes
Ingredients:
8 ounces of bittersweet chocolate, in small pieces
⅘ cup of heavy cream
Directions:
Place the chocolate into a medium, heat safe bowl
Heat the cream in a saucepan over medium heat until it boils. Watch it very carefully—it boils quickly
Pour the cream over the chocolate and whisk until smooth
Let cool to room temperature. It should be thick, but still pipable.
Mini Recipes
Substitutions
Baking Powder: 1 teaspoon of baking powder=¼ teaspoon baking soda + ½ teaspoon cream of tartar [+ ¼ teaspoon of cornstarch-optional]
Butter: 1 cup of butter=1 cup of margarine, coconut oil, or vegetable oil

1 cup of butter: ½ cup of unsweetened applesauce

Cake flour: 1 cup of cake flour=¾ cup of sifted all-purpose flour + 2 tablespoons of cornstarch
Chocolate: 1 ounce unsweetened chocolate=3 tablespoons of cocoa powder + 1 tablespoon of butter or vegetable oil
Heavy cream: 1 cup heavy cream=¼ cup of melted butter + ¾ cup of milk
Powdered sugar: 1 cup of powdered sugar=1 cup of granulated sugar + 1 teaspoon or cornstarch ground in a blender
Credits:
Bittman, M. (2003). How to cook everything. New York: Wiley.
Bittman, M. (2014, April 23). No-Knead Bread. Retrieved May 09, 2020, from https://cooking.nytimes.com/recipes/11376-no-knead-bread
Marina, ?. (2020, February 08). Basic Macarons Recipe – Italian Meringue Method. Retrieved May 09, 2020, from https://letthebakingbegin.com/basic-macarons-italian-meringue-method/
Greaves, V. (n.d.). Searchhttps://www.allrecipes.com/search/results/?wt=macarons&sort=re. Retrieved May 09, 2020, from https://www.allrecipes.com/search/results/?wt=macarons
DEVOGEL, I., Pendell, A., & Carroll, R. (2007, June 03). Chocolate Ganache Recipe. Retrieved May 09, 2020, from https://www.allrecipes.com/recipe/33647/chocolate-ganache/
Https://www.landolakes.com/recipe/19069/microwave-fudge/. (n.d.). Retrieved May 09, 2020, from https://www.landolakes.com/recipe/19069/microwave-fudge/
Baking Addiction, S. (2020, March 20). Homemade Salted Caramel Recipe. Retrieved May 09, 2020, from https://sallysbakingaddiction.com/homemade-salted-caramel-recipe/
Sönmezsoy, C. (2010, December 22). About. Retrieved May 09, 2020, from http://cafefernando.com/the-best-chocolate-mousse-of-your-life-under-5-minutes/
Kirbie, J. (2020, March 22). Chocolate Chip Mug Cake. Retrieved May 09, 2020, from https://kirbiecravings.com/chocolate-chip-mug-cake/
Burger, G. (2013, April 25). Food File: S'mores cups. Retrieved May 09, 2020, from http://www.gabyburger.com/2013/04/food-file-smores-cups.html