Helping to Shape a Generation of Good Counsel Students
Mr. Burns and Mr. Essig: Looking Back on 40 Years at Our Lady of Good Counsel High School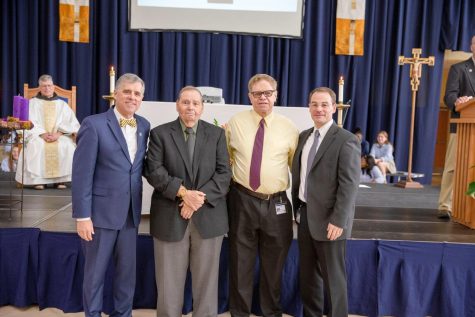 Hang on for a minute...we're trying to find some more stories you might like.
This year, Good Counsel celebrated a significant milestone: sixty years of education. With the striking posters in the halls highlighting top moments from each decade to Dr. Barker's "Darts" speech at the beginning of the year, we have celebrated since the first day of school. Since its founding, Good Counsel has achieved tremendous accomplishments––such as graduating over 12,000 students, transitioning from Wheaton to Olney, constructing a performing arts center, and preparing thousands of scholarship-recipient students for top colleges and wonderful careers. These successes are the effort of the school's entire network of resources, and they deserve recognition accordingly. However, this year, there is more worth celebrating as a school. It's an injustice not to celebrate the incredible people who have made––and continue to make––Good Counsel a home, the individuals that are the heartbeat of the building and the vigor behind the education: the teachers. This year is not only a milestone for our school but that of two men who have each dedicated forty years to teaching Good Counsel students: Mr. Richard Burns and Mr. Dennis Essig.
Throughout college and graduate school, Mr. Burns was a history major with the intent to work in U.S. foreign policy. Even after working in secondary education for many years, he did not view it as a career. Still, he was drawn to it. Mr. Burns found "shaping young minds and guiding adolescents during their formative years fascinating and important and fulfilling." Ultimately, that interest won out over a career in foreign policy, and in answering the call to education, he eventually found his way to Good Counsel.
Mr. Essig's path to teaching was more direct. As a New York City native, he attended high school in Greenwich Village East, where he took four years of Spanish. Though he claims that he was destined to teach, Mr. Essig says that his "excellent" Spanish teachers "greatly encouraged [his] love for the language and teaching," citing their influence as a catalyst for his journey to teaching at Good Counsel. After attending Catholic University, he set his sights on turning education into a career.
They both came to Good Counsel in the fall of 1978. While they did not know each other beforehand, Mr. Burns and Mr. Essig sought the same things: a school with renowned academics, extra-curricular opportunities, and quality of learning. They soon discovered Good Counsel would surpass these expectations in a wealth of disciplines. "When I first joined the faculty in 1978, I was puzzled by Good Counsel's use of the word 'community,' rather than homeroom," says Mr. Burns, a legend of the social studies department who teaches government and history. "Gradually I learned that this idea of 'community,' of bringing people together through retreats, service projects, and field trips, to share everyday experiences and achieve common goals, was a fundamental pillar of the school." It was his introduction to Good Counsel's unique practice of "community" that guided Mr. Burns into various roles that have since become some of his proudest memories. As a Retreat Leader, Government Club or School Newspaper Moderator, Summer School Director, or Social Studies Department Chair, his aim was always to make "[each] group [he] belonged to a better one." However, Mr. Burns' proudest accomplishments are a bit more personal: he is proudest "to have instilled the value of hard work in many students, to have tried to be a good listener and role model, and to have made a difference in the lives of some of the young people with whom [he] has worked."
For Mr. Essig, the much-loved head of the Language Department, it was the students that surprised and impressed him the most: "I saw that they were extremely generous with time, donations, and service. They were very open." After receiving recommendations from friends, Mr. Essig visited Good Counsel. He knew a few of the Brothers and lay staff at the time, but for the most part, the school was unfamiliar. Though he says he "was attracted by the quality of the education," it was only after Mr. Essig walked into the school one day late in the school year of 1978 that he knew for sure he would start there the next September. Teaching at Good Counsel offered Mr. Essig a unique and moving opportunity that became one of his proudest moments: presenting his three sons with diplomas at graduation. Also of great importance was his relationship to Brother Greg Turlik, one of the founders of Good Counsel's service program who, according to Mr. Essig, was "a very saintly man, an extraordinary human being who inspired [Mr. Essig] countless times." Over the course of his years teaching all levels of Spanish, French, and Latin at Good Counsel, Mr. Essig found that he learned many of his own formative lessons along with the students. For instance, he "found [his] own values," discovered the importance of making and having great friends, and learned the significance of passing his knowledge to a younger generation. Oh, and that if he has any problems with the computer, "just ask a student in the first row to help."
Forty years later, these two men rank among the most beloved teachers in Good Counsel history. Mr. Essig is adored among the throngs of students who have taken his Spanish classes. The atmosphere in his classroom is relaxed. He sits in the front of the room, often interspersing difficult lessons by recounting stories, offering sage advice, and by playing his guitar. As the head of his department, he handles a great deal of paperwork and review of other teachers, but Mr. Essig would rather be in the classroom, teaching. He is "at his best when he closes the door and is with the students." Mr. Burns' classroom environment is very similar: comfortable, thoughtful, and welcoming.
"
"They care about you beyond their classes."
— Dakota Skinner '19
Moreover, as with Mr. Essig, many of Mr. Burns' stories are famous. Hearing them is almost a rite of passage in the class, and they often become the topic of conversation between former students of his and current ones. "Burns' Law" has become a school-wide, multi-generational phenomenon that continues to astound his students––but if you do not know about it, you will have to hear it from Mr. Burns himself. Both teachers are uniquely talented at relating material-relevant personal narratives, and as a result, their teaching style goes beyond just "edutainment." It becomes informative and engaging while offering a platform for critical discussion, analysis, and real-world extrapolation.
Dakota Skinner, a former student who graduated this year, said, "They care about you beyond their classes. Mr. Essig taught me freshman year, and we still talk. Same with Mr. Burns. He also keeps up with my dad, who graduated in 1992." These comments of appreciation are echoed throughout the school and over the years by many: Dillon Barreto, a graduate of the Class of 2017, said, "Mr. Burns was one of the best teachers I ever had. He genuinely cared about every single one of his students and took the time to get to know you personally." Payton Welch, another former student, could not be more thankful for her experience in Mr. Burns' government class: "He is the reason I decided to major in political science. He included history as well as current events to engage the students. It was, by far, my favorite class."
In his forty years of teaching, Mr. Burns says the maxim "never say never" best summarizes what he has learned about his students and himself. To convey his meaning, his own unaltered words speak best for themselves:
"I recall vividly a student who decades ago was institutionalized with a serious drug problem. After visiting this teenager strapped down on a bed in a treatment center and unable to recognize me, I remarked to one of his classmates that the young man we had known was no longer with us. Within a year, this student had overcome his addiction problem and begun his college studies. 'Never say never.' To some, the transition to co-ed was a mistake that would undermine the unique relationships that had long distinguished Good Counsel. 'Never say never.' To others, the departure of this or that adult amounted to the demise of our distinctive Good Counsel community. 'Never say never.' Mr. Burns leaves us with this to remember: "While we should always value our traditions, we should also be open to change and never think that something is impossible."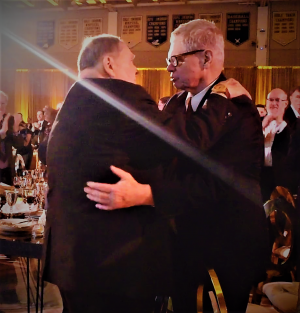 Forty years of dedication to any vocation is remarkable. The number "forty" has relevant biblical significance that a Catholic School student would be ashamed to overlook: rainfall for forty days and forty nights during the Flood, Jesus' forty days in the desert, forty days between the resurrection and the ascension. According to biblestudy.org, the number forty is used 146 times in Scripture, and "generally symbolizes a period of testing, trial, or probation." It represents a significant, roughly estimated number often associated with a long passage of time. It also represents a single generation.
Mr. Essig and Mr. Burns have given their generation to Good Counsel. They have been tested and trialed, and they have exhibited patience, resilience, and wisdom. They are two of the most loved faculty at Good Counsel, and our community is blessed to have them. Over the course of their time serving our school, they have become close friends who have continuously embodied our school motto. Alone, and together, these kind and loving individuals have made a difference.
This letter is one of gratitude dedicated to you, gentlemen. From all Good Counsel students and faculty, past, present, and future: thank you.