Meet the 2020 Election Candidates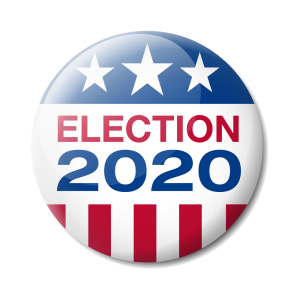 Hang on for a minute...we're trying to find some more stories you might like.
2019 has been a year filled with political scandals, congressional conflicts, and just plain partisan politics, but these issues may seem trivial compared to what we may witness when during the 2020 presidential race. With a divisive incumbent and many willing to challenge him, the 2020 race could certainly be a bloody presidential battle to win the White House.
"
YOUR OPINION COUNTS! Take a minute to complete this week's Talon Poll at the end of this article."
On the Democrats' side, many candidates have announced their candidacy, but this presents a big problem: too many candidates may mean that the votes will be divided into such small numbers for each candidate that no one will be able to compete with the incumbent. The primary goal of the Democrats is to beat Donald Trump. With a pool of ideologically different candidates, it can be hard for the Democrats to choose with whom to side. In the center-left, you have candidates such as Biden and Booker who offer a sense of pragmatism and bipartisanship that could appeal to more moderate voters. On the far-left, candidates such as Sanders and Warren provide a more regressively liberal agenda that starkly counters the Trump administration. However, the big surprise will be how young voters react to future-oriented candidates such as Buttigieg and Yang. The young vote could be the crux to securing the win for the Democrats, or it could split the values of the Democratic Party into moderate and socialist factions causing the re-election of Donald Trump.
On the Republican side, Trump is the clear front runner. With only Bill Weld and maybe certain statesmen, such as Larry Hogan, challenging him, Trump is largely unopposed. Although his first term has been filled with a lot of controversies and not-so-kind media coverage, Trump often cites his role in improving the economy. He has pleased Republicans with his tax cuts, aggressive stance on immigration, and Supreme Court nominations, but his behavior might get the best of him. To beat something as 'huge' as Donald Trump, the Democrats will need an equally assertive candidate.
Below are details about several of the most prominent candidates and the potential strengths and weaknesses that may further define them during the 2020 presidential race.
Donald Trump is seeking a second term as President. A member of the Republican Party, Trump has made immigration a priority and has been the subject of controversy around divisive statements, corruption, and instances of obstruction of justice. Despite these faults, the economy is the best it has ever been, with unemployment at record lows. Trump has also signed tax cuts for many of the country's wealthiest individuals and organizations, and Trump has nominated large numbers of conservative Federal Judges, including two Supreme Court Justices during his first two years in office, which could give the Judiciary a conservative edge for years to come.
Bill Weld, the former governor of Massachusetts (and Libertarian Vice-Presidential nominee in 2016), is seeking the Republican nomination for president. He is hoping to win support from Republicans and Independents who see Trump as too extreme. He hopes to bring the Republican Party back to its old ideals of States' Rights and Fiscal Conservatism. As governor, Weld boosted Massachusetts' economy while also lowering taxes.
Joe Biden, the former Vice-President, is attempting his third run for the Democratic nomination. Biden is considered an establishment Democrat, a longtime politician with more moderate views than many Democratic voters, which could hurt his chances. The main controversy Biden faces is that he has been known to invade the personal space of some women, causing some to feel uncomfortable. Despite this, Biden maintains the lead in most polling for the nomination, as well as against Trump. Many think he has the best chance to defeat Trump, a trait that many Democrats see as important. If elected, he would be the oldest president, a title currently held by Trump.
Bernie Sanders is a Senator from Vermont. He serves as an Independent; he is not part of the Democratic establishment. This is one of his biggest appeals to voters and the reason that he nearly upset Hillary Clinton for the nomination in 2016. He is the face of the Progressive Wing of the Democratic Party. He self-identifies as a Democratic Socialist and was one of the first to propose Medicare for All and free tuition for public colleges. He also seeks to break up monopolies and big banks. If elected, he would be the first Jewish President and the oldest President. His campaign is also facing criticism for their response to accusations of sexual harassment and his status as a "millionaire dedicated to redistributing wealth."
Pete Buttigieg is the mayor of South Bend, Indiana, a relatively small industrial city left in decline that Buttigieg revitalized. He is also a Navy Reserve officer who served in Afghanistan for seven months. If elected, he would be the first openly gay President, and also the youngest President. While some use age as fuel to attack him, Buttigieg embraces it. He wants to lead a new generation of politics, one of honest politicians who truly fight for the people. He has gained tremendous traction in the weeks following the announcement of his candidacy, placing third in many Democratic polls, far ahead of bigger name challengers. He is one of the few candidates not holding a Federal or State Elected Office. However, President Trump never held office before, so this isn't a game ender.
Kamala Harris is a Senator from California. She made a name for herself during the Brett Kavanaugh hearings. Before serving in the Senate, Harris was Attorney General of California. In her time as a prosecutor, she created special Hate Crime Units and prosecuted numerous white collar crimes. She has faced criticism for not doing enough to reduce prison overcrowding and also her racial identity. If elected, in addition to being the first female President, she would be the first Indian-American President, as well as the first Jamaican-American President.
Elizabeth Warren, Senator from Massachusetts, was considered a front runner before bigger-name candidates joined the race. Warren came to prominence in 2008 during the financial crisis, where she played an important role in creating the Consumer Financial Protection Bureau, before being elected to the Senate in 2012. She gained in popularity again in 2017: while giving a speech in the Senate, Warren refused to be silenced by Majority Leader Mitch McConnell who remarked "Nevertheless, she persisted" as she continued to speak.  That remark has now become a progressive rallying cry and inspiration for one of her campaign's tags: Persist. Warren has proposed universal child care, and a wealth tax to help pay for education. She has faced controversy for claiming herself to be Native American, many say to advance her career, even though the most immediate Native American in her family is from 6-10 generations prior. This scandal led the President to refer to her with the derogatory nickname "Pocahontas."
Andrew Yang is an entrepreneur who created Venture for America, an education company. An outsider like Donald Trump with no prior experience in politics, he has major economic reform proposals for the country. His signature issue is support for what he calls the "Freedom Dividend," a form of Universal Basic Income (UBI) for every American adult aged 18–64. Yang believes UBI is a necessary response to the rapid development of automation that is leading to workforce challenges. His emphasis on future issues and forward-thinking is popular among young people, and it will be interesting to see his performance during the Democratic primary.
Amy Klobuchar is a Minnesota Senator with the roots of her ancestors' stretching back to mining in the Iron Range. Seen as a strong female figure, she's been cited by both The New York Times and The New Yorker as one of the women most likely to become the first female President of the United States. Known for her pragmatism and effective legislating, she has championed bills covering topics ranging from drug pricing to regulating big tech. As of March, she is the only 2020 candidate with an infrastructure proposal, her "top budget priority." She has been a supporter of the Green New Deal but does not join her fellow Democratic colleagues on issues like Medicare for all and free college.
Cory Booker, a New Jersey Senator, known for his optimistic and inspiring speeches, is a hard-charger who will provide competition for other candidates such as Biden and Sanders. He has been a vocal proponent of reforming the criminal justice system. On March 7, Booker tweeted a proposal for a new bill with progressive ideas like further cutting mandatory minimums for nonviolent drug offenses and banning racial and religious profiling. Although claiming he will not take corporate money for his presidential campaign, Booker was the top recipient of Wall Street and Silicon Valley money back in 2014. He recently rescued his neighbor from a burning building. It will be interesting to see how he fares in the primary.
Beto O'Rourke,  after nearly winning the 2018 Texas Senate race against incumbent Ted Cruz, O'Rourke has drawn national attention as a potential presidential candidate who could take on Donald Trump.
Although he did not win the Senate race (50.9%-48.3%), Beto's openly liberal campaign inspired a new wave of progressive politicians in Texas (a deeply red state) to run, causing Republicans to lose control of the Texas Third Court of Appeals and Fifth Court of Appeals in the 2018 elections. Even more inspiring was Beto's fundraising, as he raised nearly three times as much ($38 million) as Ted Cruz without asking for corporate money. With a powerful charisma, staunchly progressive agenda, and powerful media savvy, O'Rourke is certain to divide votes in the Democratic primary and contribute to the national conversation.

Loading ...
Reference:
https://www.axios.com/2020-presidential-election-candidates-announce-running-15472039-9bf49de4-351a-46b3-bdde-b980947b21ea.html