The Best of GC's Got Talent
Hang on for a minute...we're trying to find some more stories you might like.
Last Friday, I had the pleasure of seeing my fellow classmates in GC's Talent Show. The show included cultural performances, such as Aashna Arora's dance to Dola Re Dora and Tim Ge and Jenny Jia's performance of traditional Chinese music. Many, such as Lourdes Nguyen, Madison Jackson, Zahra Barnes, Lesly Villavicencio, Rachel Bambose, Austin Kidd, Megan Hull, Fiorella Cardozo-Flores, Nia Hope, Madison Mills, David Ortega and Dylan Snow surprised the audience with their exceptional vocal performances. Here were some of the best acts of the show:
Caterina Ieronimo and Matthew Cain Performing "Happy"
Seniors Caterina and Matthew performed an elegant composition of Marina and the Diamonds' "Happy." Caterina's deep and golden voice put a unique spin on the song, while Michael's flawless piano accompaniment made the performance clean and professional. I was truly blown away by how put together the act was. It felt as if I were watching a headlining act.

Bea Ieronimo Singing "All I Ask"
Bea gave a captivating performance with Adele's "All I Ask." She maintained strong belts throughout the entire piece, and held them without wavering (an amazing skill!). Her performance was accompanied by a soft piano backing track, which gave a nice, easygoing attribute to her performance while highlighting her powerful voice. Her performance was met with a standing ovation!

Ben Tran and Graham Haederle (as GC Minor) singing a "Treasure" mash-up
Juniors Ben Tran and Graham Haederle parodied GC's renowned acapella group "GC Major." The duo called themselves "GC Minor" and performed a funky mash-up of Bruno Mars' "Treasure." The performance was filled with awkward dance moves from Graham and Michael Jackson-esque moves from Ben. Both succeeded in making the audience howl with laughter. Somehow, the duo did not place with their absolutely outstanding performance.
The Winners
Third Place: Megan Hull Singing "At Last"
Megan Hull sang Etta James' classic "At Last." Her soulful rendition held the audience's attention throughout the entire performance. Megan sang her heart out on the stage as she alternated between deep growls and falsetto tones. Congratulations Megan!
Second Place: Dylan Snow Singing and Playing "Boulevard of Broken Dreams"
With nothing but an acoustic guitar and his low voice, Dylan Snow fascinated the audience with his passionate performance of Green Day's iconic "Boulevard of Broken Dreams." Dylan had many audience members cheerfully singing along, creating an enjoyable experience for everyone in the room.
First Place: George Frisbie Playing "Moonlight Sonata Mov. 3" on the Piano
George Frisbie performed a classy version of Beethoven's "Moonlight Sonata Mov. 3." George has great command of both the keys and the pedals, producing an all-around smooth song throughout his performance. His great skill shone through as he played, and left many in the audience cheering by the end. It is no surprise that he won first place.
So, does GC have talent? The answer: Yes!
Frank Huang and Mehul Kansal as the evening's MCs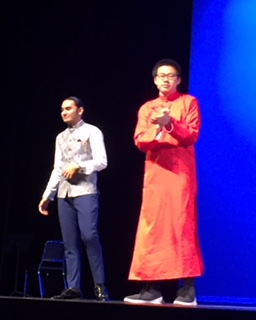 Mr. Spotswood as the evening's host
Mr. Hoag, Ms. Nicholas, and Mr. Mooney as the evening's judges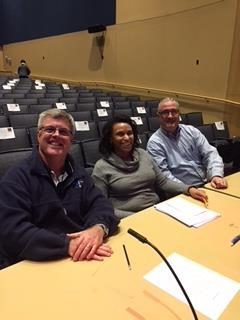 featured image photo courtesy of watchingtheswedes.com