Perspectives on the IB Program
The International Baccalaureate program, commonly known as the IB program, is known to be an extremely competitive college preparatory program that requires extensive amounts of focus, dedication, and skill. For some students, two or three IB classes are all they can manage or all they feel they need. However, some incredibly determined ones decided in the spring of their sophomore year to face the challenges of IB head-on.
So what is IB? Accreditedschoolsonline.org defines International Baccalaureate as "A rigorous, two-year program that results in personal and academic development and, upon successful completion, a globally recognized diploma." For the students invested in the program, it's much more than a diploma. It's a lot of late nights, tests, papers, and long hours of homework. However, it's an opportunity to broaden their knowledge in unexpected areas and expand the limits of their minds. For example, when asked about the best and worst parts of the IB program, second-year student Michaela McDonald '23 stated, "the work is probably the best and worst part because it's hard and sometimes it sucks, but when it finally clicks, it's extremely rewarding."
Don't let the workload scare you. Michaela also had many positive things to say about the program, maintaining that it's where she met many of her close friends and that after a year in the program, she feels prepared for college and adult life in a way she would not be had she chosen to opt-out. Sophia Alves echoes this sentiment. Also a second-year IB student, Sophia states, "I joined the IB program for its academic rigor and a strong emphasis on interdisciplinary learning in multiple subjects. The upside for me is that I have a lot of freedom to research and write about topics I'm interested in for papers like the Extended Essay."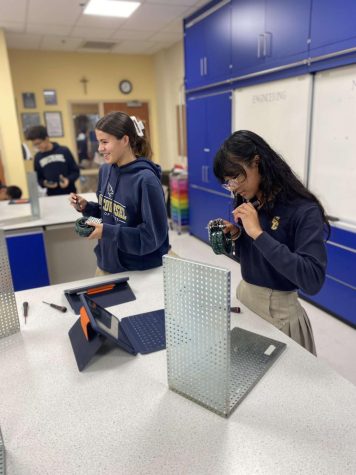 As for advice for underclassmen going into the program, Michaela says, "Don't be too hard on yourself! The IB program is hard, and you'll need to ask for help, and that doesn't mean you're stupid; everyone needs help sometimes." Sophia offers similar words of wisdom, suggesting that underclassmen talk to Mrs. Dean, the IB coordinator for Good Counsel, about taking summer classes to make for a more manageable workload during the school year. 
The IB program is one of the many ways Good Counsel helps students strive for excellence and growth. Talk to Ms. Dean about joining the program today!