Lesser-Known Sports at GC
Friday night football games are a hallmark for most Good Counsel students. Many students are also familiar with the basketball, volleyball, softball, rugby, hockey, and the championship soccer, lacrosse, and field hockey teams. But, what about GC's under-the-radar teams? The lesser-known sports can be just as demanding, competitive, and interesting as the popular ones. Here's a quick rundown on some of these teams.
Good Counsel Cross-Country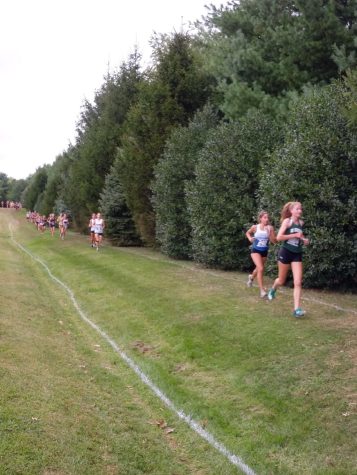 The GC cross-country team can be seen most days practicing on the track, at nearby Lake Hallowell, or at the beautiful Ag History Farm Park in Derwood. The team is coached by Rich Hiegel, GC English teacher Katrina Wavering, and alumni James Farrell '18. The girl's team is looking forward to seeing the fastest times in school history with the number one ranked runner in the state of Maryland, Leah Stevens '23. The boys team also has a dedicated roster of 22 runners, including several talented freshmen. With a full schedule this fall, the team will travel to meets in Virginia and North Carolina, culminating with the WCAC championships at Bull Run in Virginia.
Good Counsel Tennis
Most people don't realize it, but the GC girls' and boys' tennis teams play in different seasons. The girls commence their season in early September, while the boys take on other WCAC schools in the spring. The girls team has 17 players on the roster and the boys team has 12. Both teams are led by Head Coach Lee Ingham, who has coached the team since 2005, along with Assistant Coach Sophia Modi and Carole O'Neil. They practice together four times a week at Olney Manor Recreation Park. With two key senior players, teammate Dillon Remy '24 thinks that, "this year is our last good chance to win the WCAC while I'm here."
Good Counsel Equestrian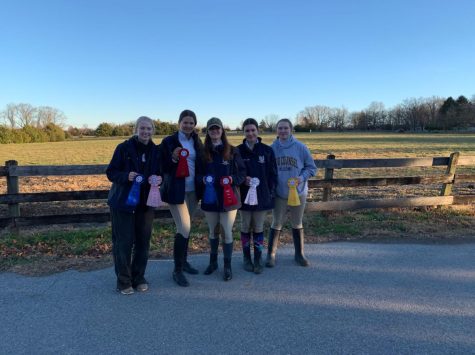 The equestrian team is also split up into two teams. The Interscholastic Equestrian Association (IEA) does classic hunt seat riding. Meanwhile, the Interscholastic Equestrian League (IEL) does eventing. The coach of the IEA team is Amber Philler, and they practice at Free Rein Farm in Gaithersburg. The riders on the IEL team have their own coaches and practice at various barns, but compete together in the spring. Most people on the team ride six to seven days a week with a lesson or two from their coaches. With IEA competing in the fall and winter and IEL competing in the spring and summer, equestrian is a year-round sport. Captain Claire Shioutakon '23 says she is, "super excited for this season because we have the biggest team we've had in years."
Good Counsel Wrestling
The wrestling season is getting underway with 20 wrestlers, nearly all of whom are underclassmen. Head Coach Skylar Saar '98 is well-known to all athletes from the weight room. He led the wrestling team to five WCAC championships from 2004 to 2017. After stepping away for a few years, he returned as Head Coach in 2020. Good Counsel and Coach Saar's most renowned protégé is Kyle Snyder '14, who went 179-0 in his matches from 2011-2013, including three National Prep championships. He also won a gold medal at the Rio de Janeiro Olympics in 2016. Kevin Buddock '16, another of Coach Saar's former top wrestlers, is now Assistant Coach. The team is excited about the upcoming year with a lot of returning athletes and potential.
Good Counsel Golf
Talented Sophomore Madison Smith '23 is "excited for the golf season to start because it is very enjoyable and [she is] excited to play with the team again." In the spring, the co-ed team practices everyday at Olney Golf Park or Manor Country Club. Currently, their head coach is Mr. Booth but they are looking to find another coach. This season should be competitive, so look out for the results!
With the fall season in full swing, keep an eye out for these teams—in addition to the classic GC sports. If you're looking to learn more about any of the GC teams or check out one of the games head to the Good Counsel sports page on the website. Let's see how many of these teams push past their limits, break records, and bring home championships this year.