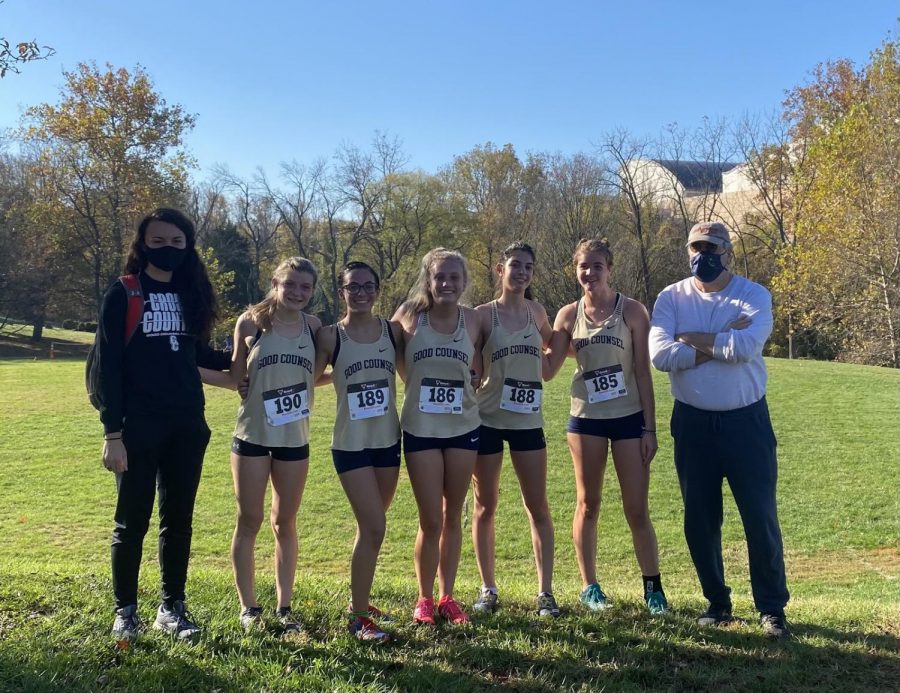 Photograph courtesy of Isabella Sauro
Unwilling to become a couch potato, GC Cross Country (XC) and Track athlete Isabella Sauro '22 has found ways to shine amidst the chaos and uncertainty the pandemic has brought. Before the pandemic, Sauro was well-known for her dedication to the GC XC and Track Team and her speed as she dominated the competition. Last year's March lockdown proved to be a minor hurdle in Sauro's path as she continued to run, whether it was around her neighborhood or in a virtual meet. To find out Sauro's secret and hear her future plans, I sat down with her.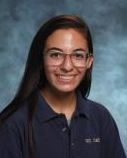 What has staying in shape, Covid-style, looked like for you? 
Isabella Sauro: Obviously, it's been pretty hard because motivation has been dwindling. (Laughs.) But I think that going for runs after school, especially when we were fully virtual, really helped me release built-up energy and stay in shape. At the beginning [during quarantine last year], my coach sent out weekly mileage goals and sometimes workout suggestions for us to do. So that helped. I would also send different messages to the team group chat, inviting them to practice with me at the farm [where XC has been practicing]. I would text the group and ask if anyone was struggling because I was running at the farm every day. Being a coach helped encourage me to push myself as well. As the restrictions started easing up, we were able to drive to different tracks and do various workouts there. 
During the pandemic, how have races and meets (outside of school) worked? 
Isabella Sauro: For the Cross Country season, we all had to sign up 'unattached,' which means not affiliated with the school, and do our own hunt for 5k races. So I found this place called Bishops Events which has a bunch of 5k races that are 10 dollars to participate. For the race, you sign up and get your bib and tracker. Then, you show up and get it done. So I think a lot of the competitions, this year, were based on us all doing our own individual part to get ourselves a season.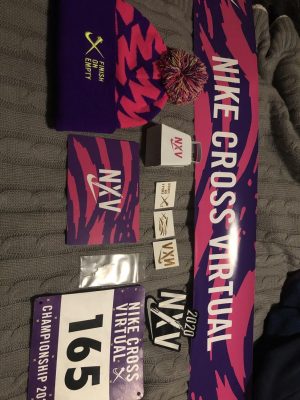 A little birdie told me that you participated in a Nike Sponsored Virtual Event! Could you tell us what it entailed? 
Isabella Sauro: Yeah! It was called the Nike Virtual Series, which was seven weeks, and you did one 5k a week. Some of the weeks, I did the 5k on a track or through my meets. Then, I would submit pictures of my watches for verification, and my coach would verify [them] on the website. Since I managed to complete all seven of the meets and be in the top quarter of competitors, I was able to compete in the eighth week, which was the championship week. So they sent us a box of merch. And it was like a cowbell and a finishing line. And, obviously, I got a lot of merch (Both Laugh) like the top (pictured wearing below). 
I competed as a Southeast runner and finished in 110th place out of 154. To run my personal record (20:10), you have to run a 6:25 pace per mile. Running for our region involves running with the [Nike] app activated on your phone. The app verified that you ran 3.1 miles in the time that you said you did. It was really unique! (Smiles) I've never done anything like that before, but it was all about making it work for me.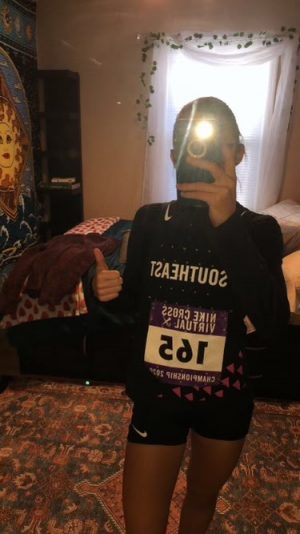 How are you doing progress wise? Have you grown as a runner? 
Isabella Sauro: Yes! I did more 5ks than I've ever done, even with a regular season in the fall. It felt really good. So I personally think that getting a lot more racing actually normalized it [racing]. In the regular XC season, you have a meet. It's such a big deal, but competing in them every weekend made me realize that I don't need to stress myself out. I can actually be happy about them. 
Are there any benefits to this weird sports season that you've noticed? 
Isabella Sauro: Yeah, especially with running, if you're still running by now [it's now April and fourth quarter], then you're pretty strong. Mentally and physically, you know that you love this sport. And that it's worth it for you because it's so hard to put in all the effort. Therefore, I believe that still being a runner after the year we've had helps me realize how much it matters to me. I can't imagine not running (Smiles). That being said, there were definitely times in the pandemic where I did not run. However, in the end, I realized running was something I needed to do for myself. That realization was a pro for me as it restored my motivation. 
Speaking of Motivation, how do you stay motivated? Tips?  
Isabella Sauro: Definitely! Similar to other athletes, I want to come out of the pandemic stronger and not weaker. I don't want to use Covid as an excuse for slacking off. I think that the mindset of "I would be running every day of the week if things were normal," as well as reminding myself that there's not really an excuse not to run. And that I needed to stay true and maintain my same goals as last year. The only thing in the way was my determination. So these mindsets really helped me. I also look up to several different pro runners who were planning to compete via the Tokyo Olympics. To see these athletes still push through (getting in their workouts and posting motivational things on social media) after the Tokyo Olympics was postponed made me think, "I can do that too!" (Smiles). 
How's the competition been? Stiffer? Easier? 
Isabella Sauro: This whole year has kind of been a weeding out of the people who don't have the love, deep down, for running. So I found that the higher competition, people planning to run for college or already have really good times, have used this challenging time to their advantage. On the other hand, people with lower times (just running to be on the team) have realized that running isn't serious for them. After consistently racing, I've found that the races only consist of runners who want to be there. So I thought that some of the meets were pretty hard (chuckles). I had some fierce competition! 
I know Junior year is a critical year for athletes as college scouts make their appearance. With the pandemic, it's even crazier. What's been your experience with college scouts? 
Isabella Sauro: For sure! (Laughs) I've been talking a lot about having to 'do it myself.' And I just did a lot of individual research. I created an NCSA, an online recruiting profile (you fill out personal information and record your best times) which college coaches review. After creating this profile, I got in contact with multiple college coaches. I'm only interested in running D3 because while I acknowledge that running is something I love, it's also something I'm not trying to go pro in. Realistically, I want to focus on my academics more than my sport. Therefore, I feel that at Division 3, I will be able to do that. And I'll be able to thrive and not have to kill myself to be in one of the top slots. (Laughs). I've been contacted by Hollins University, University of Dallas, Denison University, and the University of New England, to list a few. I am just getting messages from coaches saying, "Hey! I saw your profile. Do you want to look more into our schools?" We schedule Zoom meetings where I talk to the teams. I'll be one hundred percent about running for a college if I visit and have that feeling of "This is where I need to be."