Fantasy Football Picks: Week 4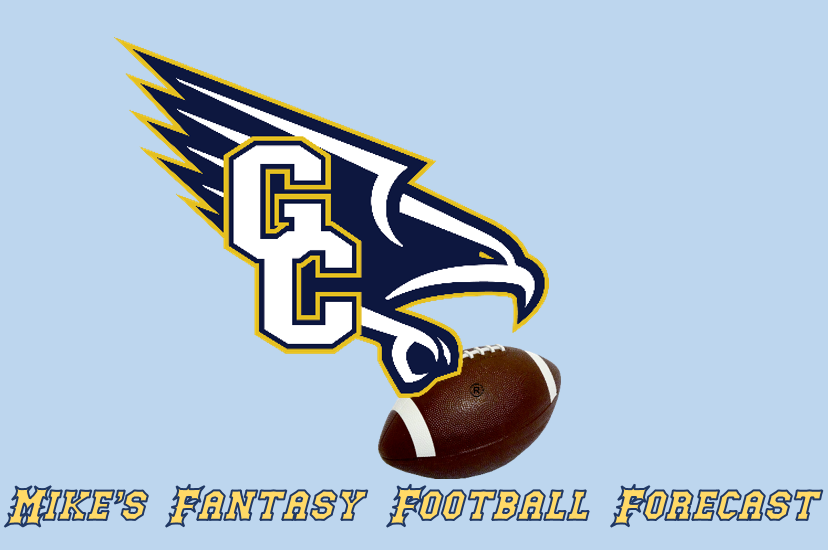 Fantasy Football Picks: Week 4  
Michael Howes '22, Staff Writer
September 29, 2020 
Fantasy Football Picks: Week 4 
Football season is here! And that means fantasy football is here too! For expertly picked quality starters and bench warmers, continue reading below and WIN your fantasy football league! 
 Previous Weeks: 
Week One, Week Two, Week Three  
Starts of the Week  
Quarterback:  
Aaron Rodgers: Aaron Rodgers has been off to a hot start so far this season. He has led the Packers to 3-0 with 887 yards and 9 touchdowns. He will be facing against the Atlanta Falcons defense who has not been off to a hot start. They have allowed quarterbacks to throw for 1088 yards and 9 touchdowns. The Aaron Rodgers revenge tour will continue against Atlanta.  
Jared Goff: Jared Goff has been showing shades of 2018 so far this season. He has thrown for 863 yards and 5 touchdowns. He has a QBR of 76.3 compared to his rating of 63.1 in 2018. He will be facing against an abysmal Giants defense that allowed 49ers backup quarterback Nick Mullens to throw for 343 yards.  
Running Back:  
Kenyan Drake: Kenyan Drake has quietly had a good season so far. Drake has had 219 rushing yards on 54 attempts. The reason he will not pop up on stat sheets is that fact that he has made it into the endzone just once. This will not be the case when he faces against a poor Carolina Panthers run defense. The panthers have allowed 565 scrimmage yards and 7 touchdowns to running backs. Kenyan Drake will have a big game against the Panthers.  
Wide Receiver:  
Odell Beckham Jr.: Odell has had a rough start to the season. He has had only 155 yards receiving and a single touchdown. It has been hard for him to get many targets in a run-first offense. However, he will be playing against Dallas Cowboys cornerbacks who have been bad so far this season. They have allowed 607 yards receiving and 7 receiving touchdowns. Odell will thrive when he plays against the Dallas Cowboys.  
Tight End:  
T.J. Hockenson: Hockenson has had a respectable sophomore season so far. He has had 13 receptions for 171 yards and one touchdown. He will be facing against a New Orleans defense who has been awful against tight ends. They have allowed 29 catches for 290 yards and 4 touchdowns. Those numbers are the worst in every category. Enough said.  
Defense:  
Colts Defense: The Colts defense has been surprisingly well through the first couple of weeks. The defense has had 6 takeaways and allowed an average of 15 points a game. They will be facing against a Bears team whose record does not tell the full story. While the Bears are 3-0, the teams they have beaten have a combined record of 1-8. They also have seemed to struggle at times on offense, which lead to the benching of Mitch Trubisky. The Colts defense will dominate the Bears with a new starting quarterback under center.  
Bench Warmers of the Week   
Quarterback:  
Derek Carr: Derek Carr has played above expectations in the Raiders' inaugural season in Las Vegas. He has completed 74% of his passes and has 6 touchdown passes so far. He will have a tall task though against the incredible Buffalo Bills secondary. They feature top names such as Tre White, Jordan Poyer, and Micah Hyde. Carr will likely struggle.  
Running Back:  
Jonathan Taylor: After a season ending injury to starting running back Marlon Mack, Jonathan Taylor has stepped up big time and has produced for the Colts. He has rushed for 182 yards which is second among all rookies and two touchdowns which is first among all rookies. However, he will be facing up against a scaring defensive front against the Bears which features Khalil Mack and Akiem Hicks. The two have combined for 24 tackles and 5 sacks through three games. The rookie could very much struggle against this brawny Bears defense.  
Wide Receiver:  
Terry Mclaurin: Terry Mclaurin continues to emerge as a young star in the NFL. He has 16 catches for 269 yards in three games thus far. Considering how atrocious his quarterback is, it makes his play even more impressive. But, Mclaurin will have a difficult game against the Baltimore Ravens, who have to All-Pro cornerbacks (Marcus Peters and Marlon Humphrey).  
Tight End:  
Jimmy Graham: Jimmy Graham has had a decent season so far with the Bears. He has had 3 touchdown receptions and has proved to be a reliable red zone threat. However, he will be playing against the number defense against tight ends on Sunday. The Indianapolis Colts have allowed only 6 catches for 32 yards and no touchdowns to tight ends. Expect Graham to have a rough night.  
Defense:  
Patriots Defense: While the Patriots defense has not played at the rate that they played last year, they have still looked very sharp. They have held opponents to 22 points a game and an average of 357 yards a game. Despite that, they will be playing against a high-powered Chiefs offense that averages about 30 points a game. The Patriots defense has shown to struggle against good offense, allowing the Seahawks to score 35 points. This could be a high scoring game, so avoid the Pats defense.  
Top Fantasy Performers So Far 
Quarterback: 
Russell Wilson: Russell Wilson has been in the kitchen for the first three games of the 2020 NFL season. He has passed for 925 yards and set the record for most touchdown passes in the first three games of a season with 14. He is on pace for 75 passing touchdowns which would be the record for most passing touchdowns in a season (Peyton Manning, 55).  The red-hot Wilson will slow down to a degree, but he will continue to be the best fantasy quarterback throughout this year.  
Running back: 
Aaron Jones: Aaron Jones has been on a tear for the first three games of the season. He has had 303 yards rushing to go along with 4 rushing touchdowns. He also has 95 receiving yards and a receiving touchdown.  
Wide Receiver: 
Calvin Ridley: Ridley has been the breakout star so far in 2020. He has 349 receiving yards which is second in the NFL and is tied for first with 4 receiving touchdowns. Calvin is on pace to have 1861 receiving yards and 21 receiving touchdowns. Like Wilson, Ridley is due for a regression, but will be a top fantasy wide receiver.  
Tight End: 
Travis Kelce: Travis Kelce has been an absolute monster through three games so far. He has the most receiving yards of all tight ends with 227 yards and the most receptions with 21. He also has 2 touchdowns to go along with that.  
Works Cited: 
Fantasy Football Scoring Leaders. (n.d.). Retrieved September 21, 2020, from https://fantasy.espn.com/football/leaders?leagueId=0 
Pro Football Statistics and History. (n.d.). Retrieved September 29, 2020, from https://www.pro-football-reference.com/