Americans in France: Mementos from the French Exchange
Hang on for a minute...we're trying to find some more stories you might like.
On November 15th, right before Thanksgiving Break, I had the chance to go to France with twelve other advanced French students, and Ms. Silva and Mr. Antico. Each student stayed with a host family, who will in return send their student to Good Counsel this February. The exchange is happening with Lycée Carnot, located in Cannes, France.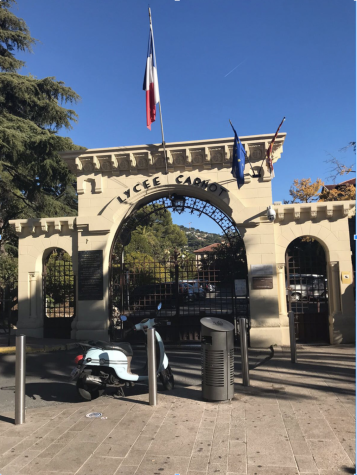 The overall trip was ten days long. The first Friday and Monday, we went to school. The first culture shock for many was that a lot of the French students were smoking right in front of the school. Whereas all of Good Counsel is in one enclosed building, Lycée Carnot more closely resembles a college campus. The school day started at 8:00 a.m and finished at 6:00 p.m., although students could have anywhere from two to six classes in one day. The French high school operates on a system where the gate is opened every hour for students to either come in or leave school, so unless they have class, they don't need to be there. In France, the driving age is higher, so it is uncommon for students to drive themselves to school in cars. Some students were driven by their parents, some rode their motorcycle, some walked, and some took the public bus. School buses are rare in the south of France. Over the weekend, we got to spend time with our French exchange partners and their families, going to Italy, seeing historical villages, playing laser tag, walking along the beach, and even flying in helicopters.
Starting Tuesday, we got to discover France with the school's English teachers (who will be coming to America as well). On Tuesday, we took the train and spent the day in Monaco, specifically Monte Carlo, and visited the Japanese garden and the palace, did some shopping, and of course, ate good food. Wednesday, we visited the island Saint-Honorat, which was a short distance by boat from Cannes. The island is home to a community of monks who make wine and cheese. Thursday, we went to Nice by train, where we got to explore the stone beach, the market, churches, and parks. We also enjoyed some more French food and stores. Some students tried socca, which is like a pancake made out of chickpeas. We ate macarons and even found a really good vegan place. Friday, students got to explore Cannes; they went to another market and saw other little stores ranging from clothes to pastries to a butchery shop.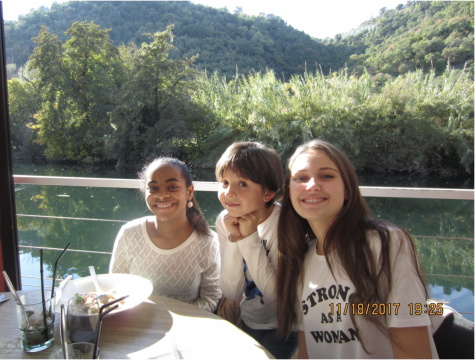 The France exchange was eye-opening and a bunch of fun. Sadly, it came to an end when we boarded a 6:30 a.m flight, stopped in Amsterdam, and then flew back to the U.S. Some of us came back sick, tired, and with a lot of work, but I know that if given the chance, we would all love to go back again.